Good news! This morning I baked a Doubletree Hotel cookie clone that actually tastes like the real thing. They're called Christie Cookies, and I found the recipe in a collection where someone said it was the Doubletree Hotel cookie. I was skeptical at first, so I did a little more research. According to both Cooking with Amy and a Doubletree website, the Christie Cookies recipe really is supposed to be the one used by Doubletree. Up until now, I've been using various clones, but having eaten a few actual Doubletree cookies this year, I think this copycat is more like the real thing.
It's possible the key ingredient is "Brickle Bits", which are little bits of toffee you find in the baking aisle. In most cases I find them sticky and annoying, but in this recipe they blend right in and add just a hint of extra chewiness and flavor.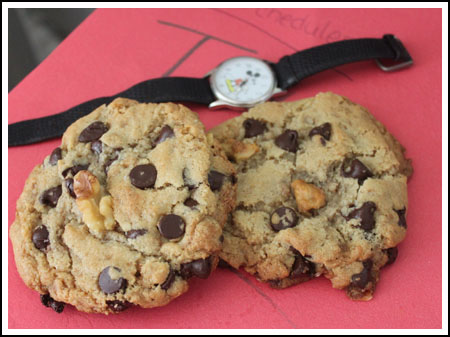 Doubletree Copycats aka Christie Cookies
Christie cookies or the cookies that DoubleTree hotel serves
Ingredients
1 cup all purpose flour (4.5 oz)
1/2 teaspoon baking powder
1/2 teaspoon baking soda
5/8 scant teaspoon salt (Morton Kosher)
4 oz (1 stick) unsalted butter, cold – cut up
1/4 cup granulated sugar
3/4 cup packed light brown sugar
a large egg
1 teaspoon vanilla
1 cup dark chocolate chips
1/2 cup Bits of Brittle
3/4 cups walnuts, toasted and chopped
1 1/8 cups oatmeal (measure, then grind), ground in a coffee grinder or food processor
Optional: 1 grated Hershey Bar (as per comment suggestions)
Instructions
Mix flour, baking powder, baking soda and salt, set aside.
Cream butter and sugars in large mixer bowl. Add egg and vanilla and stir until mixed.
Add flour mixture and oatmeal gradually, stirring until incorporated. Stir in Heath Bits, Chocolate Chips, and nuts. Add grated Hershey Bar (if using).
Scoop dough up with a quarter cup measure and shape into big balls. Press them slightly to make discs. Set the discs on a plate and chill for a few hours or until firm. Note: You can bake these without chilling, but I liked the texture better after chilling.
Place on parchment lined cookie sheets about 3 inches apart. Bake at 375 degrees for 8-13 minutes. Cookies should still be slightly underdone (I didn't want mine underdone and cooked them l2-13). Move to wax paper lined counter to cool, do not use wire racks. (I did both – wire racks made the cookies crispier, cooling on rack helps internal cooking for underdone cookies and probably makes them chewier).
Notes
--I made these in a stand mixer with a paddle attachment. The butter was unsalted cold – straight out of the refrigerator. For the oatmeal, I ground it up in a small coffee grinder so it was more like oat flour than coarse ground oats. You can hardly tell oats are in the cookies thanks to the small grind. The original recipe included a grated Hershey bar. I didn't have any milk chocolate and left it out. If you want to throw some in, I think it would be great in these. However, the cookies were good without the milk chocolate as well.
Related posts: