Cookies made with hard boiled eggs! Following in the tradition of European bakers, my friends and I came up with a few different versions.  Here's the rundown. These are all cookies I made year ago during a period when I was obsessed with putting different things in chocolate chip cookies. Honestly, that obsession is still going strong, but I'm using other ingredients these days. The hard boiled egg chocolate chip cookies are still really good and perfect for using leftover hard boiled eggs from Easter.
Steaming Eggs
While I'm updating this post, I should also mention that the best way to hard boil eggs is not to! The best way to make hard boiled eggs, in my opinion, is to steam them. Just set up your steamer basket as usual, add 3 or 4 eggs and steam for about 13 minutes. Plunge the eggs in cold water as soon as they are done. You may want to start with 1 or 2 eggs just to make sure the 13 minute time works for you.
Hard Boiled Chocolate Chip
The Chocolate Chip Hard Boiled Egg Cookie. The hard boiled eggs disappear into the cookie dough as it bakes. The cookies are thick, chewy and fairly soft (yet not cakey).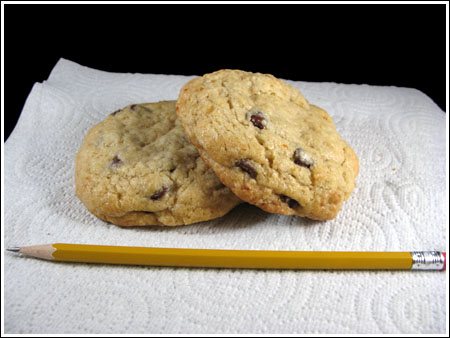 Hard Boiled Oatmeal
The Hard Boiled Egg Oatmeal Cookie is another variation on cookies made with hard boiled egg yolks and whites. Again, the egg disappears (mostly!) leaving behind thick and dense oatmeal cookies.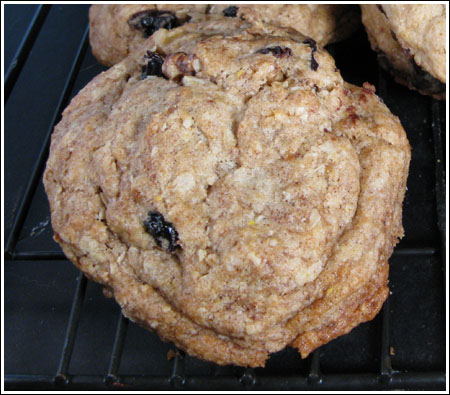 Hard Boiled Chocolate
And finally, the Chocolate Hard Boiled Egg cookie. Yes, another one.