Until I settle on an Easter recipe, here's one that might come in handy. It's for hard boiled egg chocolate chip cookies.
The original version made two cookies and used half a hard boiled egg. This version uses the whole egg and yields 4. I haven't tried scaling the recipe up any more than that, but I don't see why it wouldn't work.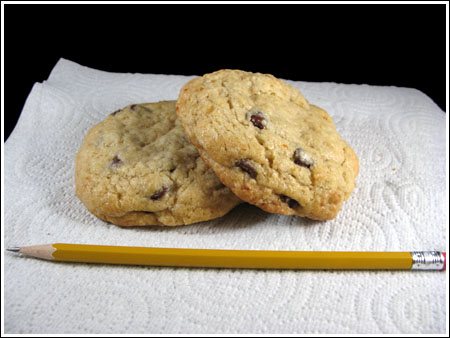 Update: This recipe has become very popular over the years and bakers all over the world have put their spin on it, often doubling it. This is the original version and only makes 4 cookies.
Tip: For perfect "hard boiled" eggs, cook them in a steamer -- Steamed Hard Boiled Eggs (from Serious Eats).
Amazing Hard Boiled Egg Chocolate Chip Cookies
1 ⅓ cups plus 2 tablespoon (180 grams) all purpose flour
4 ounces (114 grams) cold unsalted butter – unsalted European style works well
½ (.5 ml) teaspoon salt
¼ (1 ml) teaspoon baking soda
¼ cup plus 2 tablespoons (70 gram) granulated sugar
¼ cup (56 grams) brown sugar
1 hard boiled egg, shell removed
¼ teaspoon (1 ml) vanilla extract
handful of chocolate chips
Combine flour and butter in food processor. Pulse until mixture is mealy and coarse. Add the salt and baking soda and pulse to mix. Add both sugars and hard boiled egg. Pulse again until mixture is mealy looking. Add in the vanilla and pulse until mixture just begins to come together.
Dump mixture into a bowl, add chocolate chips and shape into two balls. You will see egg whites in dough – they'll disappear as the cookies bake.
Bake on a parchment lined cookie sheet at 350 degrees F. for 20 minutes or until cookies appear lightly browned around edges. Let cool on cookie sheet for 5 minutes then transfer to rack to finish cooling.
Important: Let cool completely before serving. The texture gets better as the cookies cool. It's even better if you cool the cookies, freeze them, then thaw them.
Makes 4 big cookies