Sorry this post is late. I made the cookies this morning, went to the store, then came back to find I didn't have Internet access. I don't know about you, but my blood boils when that happens and I get edgy. It's hard to imagine that years ago, I couldn't log on to a computer and just connect with the world.
Speaking of old times, this cookie is definitely of a bygone era. It's adapted from a recipe in Nancy Baggett's All American Cookie Book and the original title was Farmers' Favorite Molasses Cookies, because the cookies were popular in the rural midwest. In her book, Nancy describes the cookies as evenly shaped cookies which look like gingersnaps before being iced, but are actually milder, sweeter, fancier and have a chewy rather than crunchy texture. That's exactly how I'd describe them. They're pretty good and look nice on a plate. I'm going to share them with the girls in the leasing office.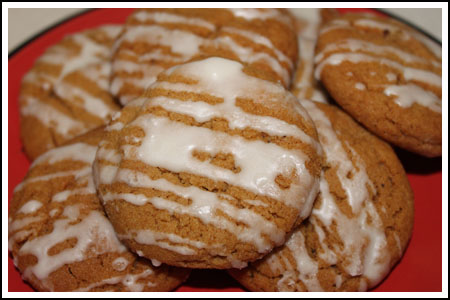 Iced Molasses Cookies
2 cups all purpose flour
1 teaspoon baking soda
1/2 teaspoon salt
1 teaspoon ground cinnamon
1 teaspoon ground ginger
1/2 teaspoon ground cloves
3/4 cup plus 2 tablespoons granulated sugar
1/2 cup vegetable shortening
1/4 cup butter (unsalted)
1/4 cup light or dark molasses
1 large egg
Mix together the flour, baking soda, salt and spices. Set aside. Cream the sugar with the butter and shortening. Beat in the molasses, then add egg and beat well until thoroughly mixed. Gradually add the flour mixture to the molasses mixture and stir to make a dough.
Chill dough for 1 ½ hours or until ready to bake.
Shape dough into about 50 little balls. Arrange 2 ½ inches apart on parchment lined cookie sheets, press tops down slightly.
Bake in upper third (I actually baked mine in the center) of a preheated 350 degree F oven for 10-14 minutes. Let cool for 2 minutes on cookie sheets, then transfer to a wire rack to finish cooling.
Frosting:
2 cups powdered sugar, sifted
1 tablespoon melted unsalted butter
2 ½ tablespoons light cream or milk plus more as needed
1 teaspoon vanilla
Mix the sugar and butter together the best you can. Slowly stir in the milk and beat until smooth. Add vanilla, then add more milk little by little until you get a nice drizzling consistency.