The buttermilk biscuit recipe on the bag of the Gold Medal flour bag is pretty good, but last night I wanted to make strawberry shortcake, found I was out of buttermilk, and made the biscuits with sour cream. The biscuits were so light and tender and had such a good flavor that I'd definitely make them this way again – especially for shortcake because the sour cream flavor meshed well with the strawberries.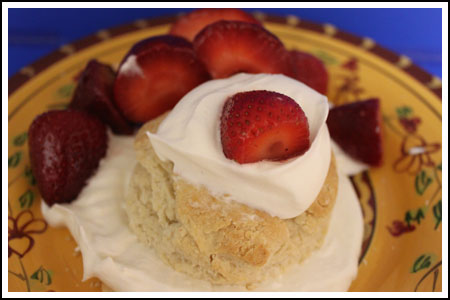 The biscuit recipe was easy and required only one bowl microwave-safe mixing bowl. You melt the butter right in the bowl, let it cool to room temperature, then stir in the ingredients in the order given. If you work biscuit dough too much it gets tough, so I just squished it together in the bowl, turned it onto a clean surface, and made as many cuts as I could without re-gathering the dough.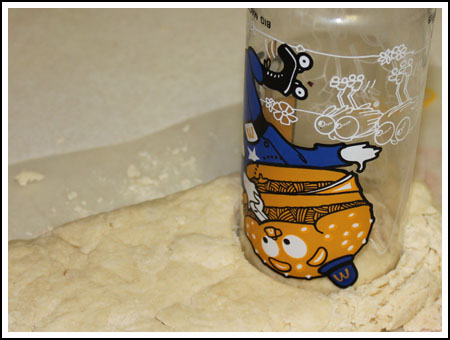 The dough seemed a little on the dry side and I didn't need to add any flour to the cutting surface, but the biscuits tasted perfect. Since I was using them for shortcake, I didn't bother brushing the tops with butter. Not that it would have hurt anything.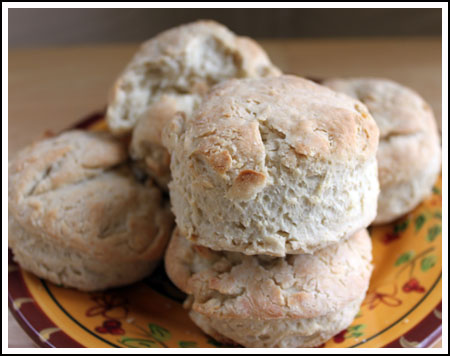 So biscuits plus strawberries meant dessert — Strawberry Shortcake!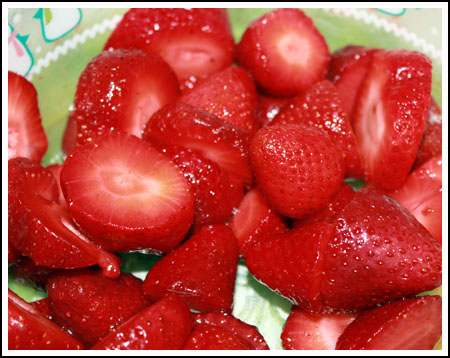 Here's a basic method for making strawberry shortcake with biscuits.  That is, unless you prefer those little round spongecake bowls they sell in the produce section.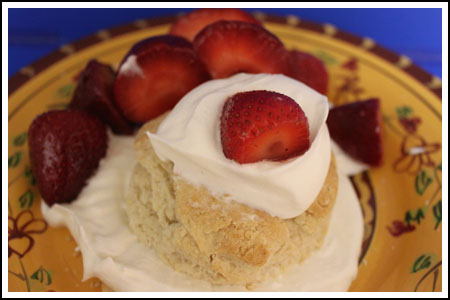 Strawberry Shortcake with Sour Cream Biscuits
Traditional southern style recipe for strawberry shortcake served on fluffy biscuits.
Ingredients 
Strawberries
1

pound

strawberries

trimmed of stems and sliced

2

teaspoons

of sugar
Biscuits
4

tablespoons

unsalted butter

melted and cooled

1/2

cup

sour cream at room temperature

1/3

cup

whole milk

plus a little more if needed, room temperature

1 1/2

teaspoons

sugar

2 1/4

cups

self rising flour

fluff up and spoon, don't pack
Whipped Cream
3/4

cup

heavy whipping cream

1/2 to 1

tablespoon

granulated sugar

1/4

teaspoon

vanilla
Instructions 
Toss berries with sugar, cover and refrigerate for a few hours or until you are ready to make the cakes.

Prepare Biscuits (Makes 6)

Mix the cool melted butter, sour cream, milk and sugar together in a mixing bowl. Add all but 2 tablespoons of the flour and stir just until it's barely mixed in – if batter seems too sticky, add the rest of the flour. I used all of it and my dough was dry, but the biscuits were still good. Squish mixture with your hands until it comes together, but don't overwork it. Dump onto a cutting board or flat surface and shape into a plank about 3/4 inch thick. Using the top of a glass or biscuit cutter, cut out biscuits. Place on baking sheet and bake at 400 for about 12-16 minutes or until biscuits seem done. Let cool.

Whipped Cream

In a chilled mixing bowl using chilled beaters, whip the cream until soft peaks form. Beat in the sugar and vanilla and beat until peaks are stiff

Assemble! Slice the biscuit, rub a little whipped cream on the cut side, spoon strawberries over whipped cream, top with more whipped cream and more strawberries or top with the other half of the biscuits. I gave everyone half a biscuit and that was fine. The rest of the biscuits went in the freezer.
Notes
1 cup of self rising flour is equal to 1 cup of flour, 1 1/2 teaspoons of baking powder and 1/2 teaspoon of salt for every cup of flour. This recipe calls for 2 1/4 cups cups. You can use 2 cups of flour, 1 tablespoon baking powder and 1 teaspoon of salt. This will give you a total of 2 cups plus a little over a tablespoon of self-rising flour. Throw in about 3 more tablespoons of flour as needed and don't worry about using more baking powder or salt.