My friend Amy and a handful of other bloggers were invited to the Pillsbury Bake-Off. They had a great time and shared their experiences, mostly positive but with a few criticisms — 0ne being that very few recipes were from scratch. It's a good point, and as the Bake-off evolves and changes with the times, maybe we'll see a resurgence in scratch baking and Bake-Off will continue to add "flour" to their list of eligible ingredients.
But back to Bake-off #44, Amy counted 5 finalists who used flour as a primary ingredient, and highlighted 3 of them. She wrote about a rich peanut butter cupcake, a chocolate scone that was almost brownie-like, and a chocolate  cookie with an interesting combination of ingredients.  Because Amy recommended them, I made a batch of the "Deluxe Triple-Chocolate Cookies" this morning. My review is after the jump.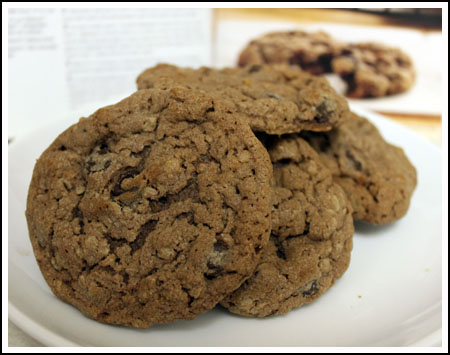 My big worry was that they'd be a waste of good Nutella. I've baked it into a few desserts with mixed results. Sometimes it's detectable, but sometimes you can hardly taste it. In this case, the Nutella flavor was mixed in with so many other flavors I really didn't taste it, but I suppose the Nutella's consistency gave the cookies the texture that Amy liked.   Mine were slightly crisp on the outside and very chewy.  If I'd baked them longer, they might have been a little crisper.
An even more unusual ingredient was the cocoa powder, Hershey's Good Night brand to be exact. It sounds like an odd addition, but the drink mix type cocoa powder does have dried milk in it, which probably helped give the cookies some chewiness as well.  That and milk chocolate flavor.
Speaking of which, there were so many flavors in this cookie!  I kind of wish I could have tasted each one, but in this case they all combined to make one unique flavor that I'd call milk chocolate peanut butter.  I'd be interested to hear your opinions on Deluxe Triple Chocolate Cookies.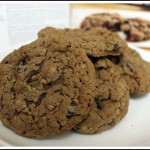 Print Recipe
Deluxe Triple Chocolate Cookies
Deluxe Triple Chocolate Cookies are from the Pillsbury Bake-off. They call for hot cocoa powder, peanut butter and Nutella.
Ingredients
1

cup

unsalted or salted butter

softened

3/4

cup

packed brown sugar

3/4

cup

granulated sugar

2

eggs

1

teaspoon

pure vanilla extract

1/2

cup

hazelnut spread with cocoa

1/2

cup

Jif® Creamy Peanut Butter

1

box

5 oz milk chocolate hot cocoa mix (four 1.25-oz envelopes) or 1 cup milk chocolate instant hot cocoa mix (dry)

2

cups

Pillsbury BEST® All Purpose Flour

1

cup

old-fashioned or quick-cooking oats

1

teaspoon

salt

1

teaspoon

baking soda

1

bag

12 oz semi-sweet chocolate baking chips (2 cups)
Instructions
Preheat oven to 375°F. Line cookie sheets with parchment paper.

Beat butter and sugars with electric mixer on medium speed until light and fluffy.

Beat in eggs and vanilla, then reduce heat to low and beat in hazelnut spread, peanut butter and cocoa mix.

Stir in flour, oats, salt and baking soda until well blended. Stir in chocolate chips.

Drop dough by rounded tablespoonfuls 2 inches apart onto cookie sheets and bake 9 to 12 minutes or until edges are set. Let cool 3 minutes; remove from cookie sheets to cooling racks. Store tightly covered.