Today's brownie recipe is adapted from a contest winner from Southern Living magazine. A $1,000 "brand winner" in the desserts category, this recipe features 1/4 cup of Millstone Coffee. Unless you brew your coffee really, really, strong, you're not going to get much flavor from 1/4 cup brewed coffee, but in this case it doesn't matter because the brownies are so good.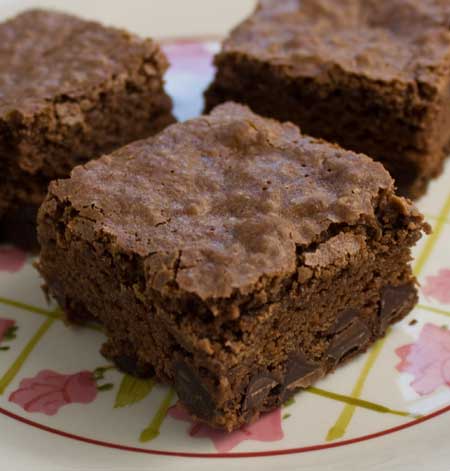 If you don't drink coffee, you could probably get away with using water. The base is made with unsweetened chocolate, but to get the full flavor and texture effect, you need to add some good chocolate chips. In the original recipe, it's a full 2 cups, so in the half batch recipe below I used 1. Since I was making these for a group of kids, I left out the nuts.
These are neither fudgy nor cakey but rather somewhere in between. They bake at fairly high temperature, so keep an eye on them and err on the side of underbaking rather than over. Mine were perfect in 30 minutes, but the full batch will need 35. Here's a link to the 9×13 inch version of Deluxe Brownies. Below is the 8 inch version.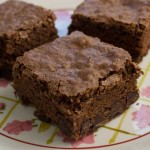 Print Recipe
Deluxe 8 Inch Pan Brownies
Brownies that are neither too cakey nor too fudgy
Ingredients
1

stick

4 ounces unsalted butter

3/8

teaspoon

salt

omit if using salted butter

2

ounces

unsweetened chocolate

2

tablespoons

brewed coffee

2

large eggs

1

cup

granulated sugar

1/2

teaspoon

vanilla extract

1/2

cup

all-purpose flour

1

cup

extra dark chocolate morsels

1/2

cup

chopped and toasted walnuts

optional
Instructions
Preheat the oven to 375F. Line an 8 inch square metal pan with nonstick foil.

Melt the butter in a small saucepan or in a microwave-safe bowl. Add the salt, chocolate and coffee Reduce heat to low, and stir until melted. Remove from heat and allow it to cool slightly.

Beat eggs on high speed of an electric mixer. Gradually add sugar and vanilla, beating 3 minutes or until thick and pale.

Add chocolate mixture to egg mixture, beating until blended. Gradually add flour, stirring just until blended.

Stir in chocolate morsels and walnuts (if using). Pour into the pan and bake on center rack at at 375° for 30 minutes. Cool in pan on a wire rack for about an hour, then transfer to refrigerator and chill for another hour or two or until very cold. Lift foil with brownies out of pan. Cut brownies into squares.