Last year a reader found an old Bake-Off book at a tag sale and sent it to me knowing I'd use it. I do. And when I'm not cooking from it, I read it.
The other day I was flipping through pages and found a recipe called "Meringue Cradle Cake" from 1953. It wasn't one I'd seen on the web and it sounded delicious --  a light yellow cake with a flaky meringue crust which you make by lining a tube pan with meringue, filling with cake batter, then baking.  I had to try it.
Loaf Pan Meringue Cradle Cake
Rather than buy a tube pan, I decided to make half the cake and bake it in a loaf pan.  Before starting, I searched the Internet to see if anyone else had made this cake. Sure enough, Rose Levy Beranbaum wrote her version of Cradle Cake in her book, Rose's Heavenly Cakes. She'd also baked it in a loaf pan.
Serious Eats had permission to print Rose's cradle cake recipe verbatim. Her directions are meticulously detailed, she uses buttermilk in place of regular milk and a different mixing technique. Since I'd found the recipe in the Bake-Off book, I decided to use the original Bake-Off recipe.   It was one of the tastiest and most interesting cakes I've made in a while.
I've put more notes at the bottom and typed the recipe as I made it, plus a (very slightly) adapted version of the original tube pan version. Since it's a unique cake, I took a few pictures along the way.
Basically, you start by lining a greased pan with meringue. I went crazy with the cooking spray because I worried the meringue would stick, but getting it out of the pan was easy.
Next, you fill the meringue cradle with batter.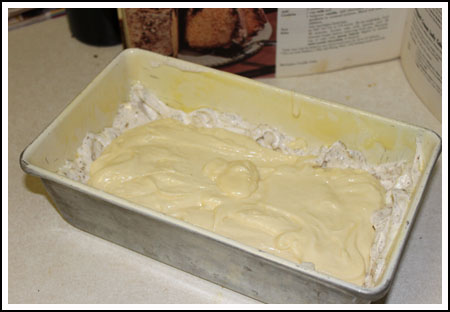 After baking the cake for about 50 minutes, you loosen with a spatula before cooling.
Cool for 20 to 30 minutes, then invert. For this cake, a rectangular shaped platter really comes in handly. Too bad I don't have one.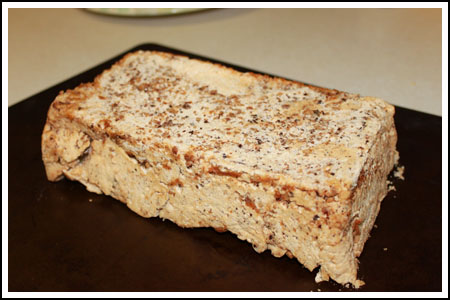 Here's a cut shot...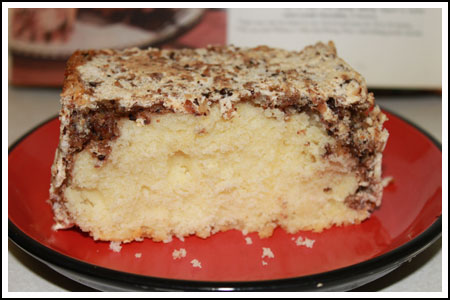 ...and another shot.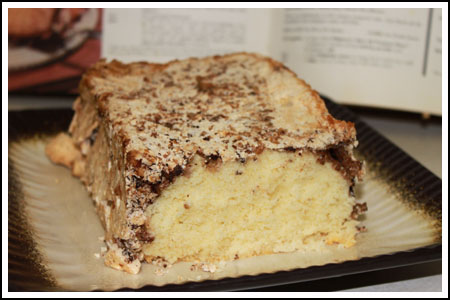 And here's my version of the recipe.
Loaf Pan Meringue Cradle Cake -- Anna's Version
Meringue:
2 large egg whites, room temperature
½ cup granulated sugar
¼ teaspoon of vanilla
½ cup finely chopped, toasted pecans
½ oz unsweetened grated chocolate (see note)
Cake:
1 cup cake flour (4 oz) or 1 cup "measured-after-sifting" bleached flour (4 oz)
1 ¼ teaspoons baking powder
¼ teaspon salt
4 tablespoons unsalted butter, room temperature
½ cup granulated sugar
2 large egg yolks, room temperature
½ teaspoon vanilla
½ cup milk, room temperature
Preheat oven to 325 degrees F and adjust the oven rack to the lower third of the oven.
Spray a 9x5 inch metal loaf pan with flour-added cooking spray, then line the bottom with a rectangle of parchment paper (or wax paper).
Measure out all ingredients, line them up and have them ready to go so the meringue doesn't have to sit for too long.
Make Meringue First:
Beat egg whites until soft peaks form. Gradually beat in ½ cup sugar until stiff, glossy peaks form. Beat in vanilla, then fold in nut/chocolate mixture. Spread mixture over bottom and a little over halfway up the sides of the loaf pan, doing your best to make a nice cradle. Set it aside.
Sift the flour, then stir it together with the baking powder and salt; set aside.
Wipe out the mixing bowl, then cream the butter and ½ cup granulated sugar until light and fluffy. Beat in egg yolks and vanilla and beat on high for a couple of minutes, scraping bowl often. Stir in flour mixture alternatively with milk until well blended (flour, milk, flour, milk, flour). Pour cake mixture into pan so it goes right down the center of the meringue cradle.
Bake in lower third of the oven for 45-50 minutes. Meringue will look golden. Do not invert pan yet. Let cool for about 5 minutes, then loosen with a spatula and set pan on a rack for 25 minutes. Invert on a serving plate. Peel off parchment paper; cool completely.
More Notes
Chocolate -- Rather than grate the chocolate, I used a Pampered Chef handy chopper which I pulled out of a box I'd socked away for the past 8 years. It really did the trick on the chocolate and the nuts. Rose Levy Beranbaum uses another method. She chills the chocolate then puts it in a food processor with the pecans and a tablespoon of the sugar that goes into the meringue. If you've got a processor, this seems like a good method. Or you could just grate the chocolate and chop the nuts.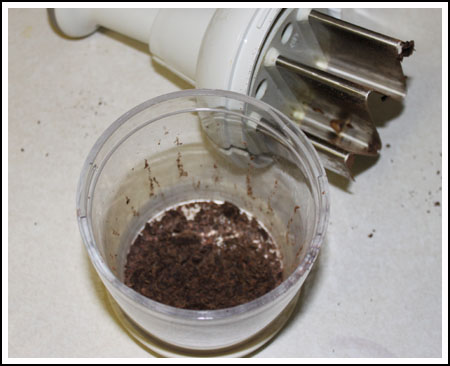 Flour -- Bleached all purpose flour works well for lots of cakes, but I think cake flour is even better. I used 4 oz (1 cup) cake flour. The original recipe uses sifted bleached all purpose, which probably weighs around 4 oz after being sifted.
Salt -- ¼ teaspoon of salt was plenty. The old Bake-Off version uses 1 teaspoon. Maybe baking powder wasn't as salty then? Hmmm probably not. But if I made the tube pan version I'd use only ½ teaspoon.
Here's the slightly adapted Bake-Off book version. I put it in a format similar to my old book.
Meringue Cradle Cake Adapted from 1953 Bake-Off
Senior Third Prize Winner by Mrs. Stephen A. Hornung, NY, NY

Beat -- 4 large egg whites until soft mounds form. Gradually add 1 cup sugar, beating constantly until stiff glossy peaks form.

Fold -- in 1 cup pecans, finely chopped (don't forget to toast first!) and 1 oz grated unsweetened chocolate.

Spread -- meringue evenly over bottom and about three-fourths up sides of a 10 inch tube pan which has been greased and lined with waxed paper on the bottom (parchment).

Sift -- together 2 cups SIFTED Pillsbury's Best all purpose flour, 1 teaspoon salt (seems like too much) and 2 ½ teaspoons double acting baking powder.

Cream -- 4 oz butter (I used unsalted), gradually add 1 cup sugar, creaming well. Add 4 unbeaten egg yolks; beat well

Combine -- 1 cup milk and 1 teaspoon vanilla. Add alternately with the dry ingredients. Blend well after each addition.

Turn onto the meringue lined pan.

Bake at 325 for 1 ¼ to 1 ½ hours. Do not underbake. Cool 20 minutes. Loosen cake with spatula. Cool 30 minutes longer before removing from pan. Decorate top of cakes with pecan halves dipped in chocolate if desired.

Adapted from Pillsbury Best of the Bake-Off Collection