It seemed like a brownie kind of morning, but then I logged on to Bake or Break and saw Salted Brownies. That sealed the deal. The word "salted" got my attention, but what I really liked about this brownie recipe was the combination of small amounts of unsweetened chocolate and cocoa powder. Brownies made with a little of each are almost always good, and I had little bits of both to use up.
The catch was that I was short on butter and had to halve the recipe. Rather than just bake it in a loaf pan, I tried making a foil mold  that was exactly half of a 9 inch pan. It worked! The half batch was done in 28 minutes and the brownies were perfect.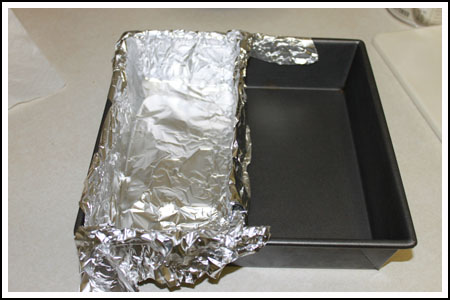 As for the salt, I used it but I chickened out on the last step. Rather than swirl the salt into the batter with a butter knife at the end, I mixed half of the salt into the dough and sprinkled the rest over the brownies. You'll know what I mean when you read the recipe.
For an easy, one-bowl, whisk-only recipe, these were terrific brownies. They were light, yet dense and fudgy. Like Jennifer said, brownies really do give you the best return on your time and effort investment.