One of my projects of late has been weeding through cookware. Over the years I've accumulated tons of it, but not all of it is good. What I treasure now and want to make room for more of is my All-Clad. It may sound melodramatic, but cooking with good quality metal pots and pans has changed my life — or at least my cooking, which is a big part of my life so it's fair to say. If I had to take one piece to a desert island it would be my All-Clad saute pan because I use it almost every night making dinner, but a close second would be the lidded saucepan because it's what I use to make awesome homemade caramel topping to drizzle on top of things like turtle brownies.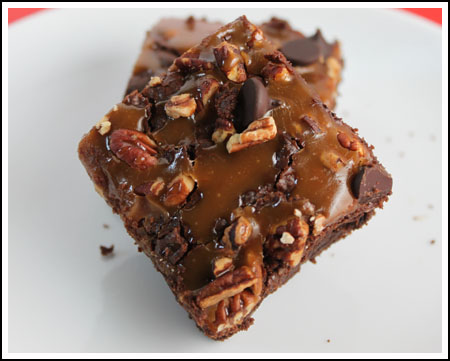 All-Clad Metal Saucepan
I'm not sure I would have ever learned how to make caramel without my metal saucepan. It's heavy, durable, conducts heat well, and I can scrape things off the bottom without worrying about damaging it. Making caramel shouldn't involve scraping, but it does involve keeping a consistent heat, covering the caramel for a brief stint to prevent crystallization, and keeping an eye on the color of the sugar so you'll know when it's ready. Another advantage of metal saucepans is that you can see the color better than you can with a black pan.
Turtle Brownies with Caramel Topping
So back to the brownies. Start with a good base brownie recipe. For this, I used Saucepan Brownie Recipe. If you use this recipe, make sure to use 8 oz of good quality chocolate and not chocolate chips. Chocolate chips work, but the brownies will be slightly dryer.
Caramel Topping for Turtle Brownies:
1/4 cup granulated sugar
1 tablespoon water
2 tablespoons unsalted butter, room temperature
2 tablespoons heavy cream, room temperature
1/2 teaspoon vanilla, room temperature
Tiny pinch of salt
Prepare Caramel Topping.
Heat sugar and water over medium heat, uncovered, in a lidded saucepan. Swirl pan occasionally until sugar is dissolved (this will only take a minute or two). At this point, sugar should be boiling. If it's not, increase the heat. Otherwise, just cover pan and boil syrup for 2 minutes. Remove cover and continue boiling for another minute, swirling pan once or twice until mixture begins to turn amber. Swirl pan until it takes on a uniform amber color. Remove from heat and whisk in butter until smooth. Whisk in cream (it will bubble up). When cream is thoroughly mixed, whisk in vanilla and a pinch of salt. Let the caramel cool slightly or just until it is a good consistency for drizzling. With a big spoon, drizzle it over the brownies. Sprinkle some more nuts on top. Let cool completely, then chill for an hour or two. Lift foil from pan, set on a cutting board and score into squares.