I've always put more time and effort into toffee than caramel, but lately I've been craving the latter and trying various recipes. By far, this version of Chocolate Sea Salt Caramels is the best! And as a bonus, it's pretty easy.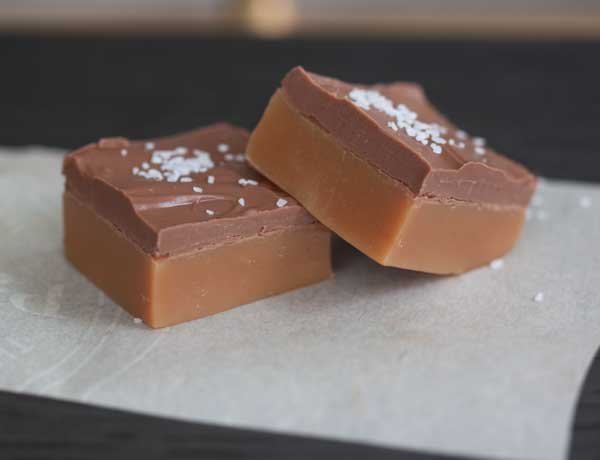 The original recipe is on Land o'Lakes and I found it while I was researching things to do with European style butter. The sea salt caramels recipe doesn't call for the special butter, but it caught my attention nonetheless and was lured in by all the great reviews. Nobody gave it less than 5 stars, which is quite surprising since caramel can be tricky.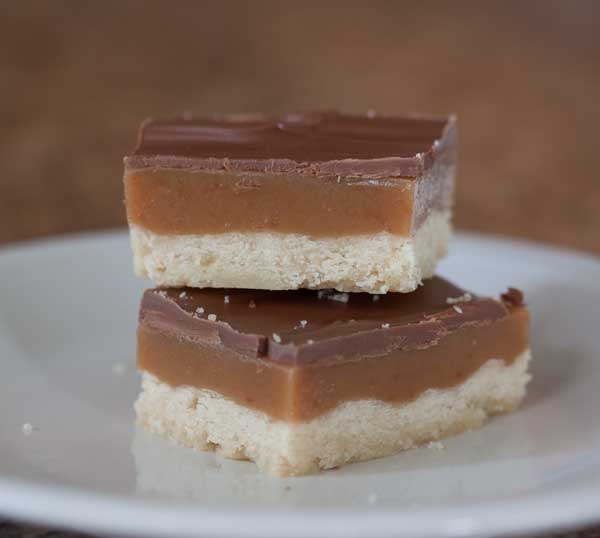 This one's not! I've made it twice, both times a success. The first time I poured it over shortbread for Millionaire Bars. The second time I just poured it into a pan, topped it with chocolate and cut it into squares. It's darker than some other caramels and has an amazing depth of flavor. Land o' Lakes provides a recipe for the full batch, but if you are okay with using half a can of condensed milk (I like to weigh out 7 oz), the recipe halves nicely. If you halve it, pour it into a 9x5 inch non-stick foil lined loaf pan and watch the temp closely, as it will take less time.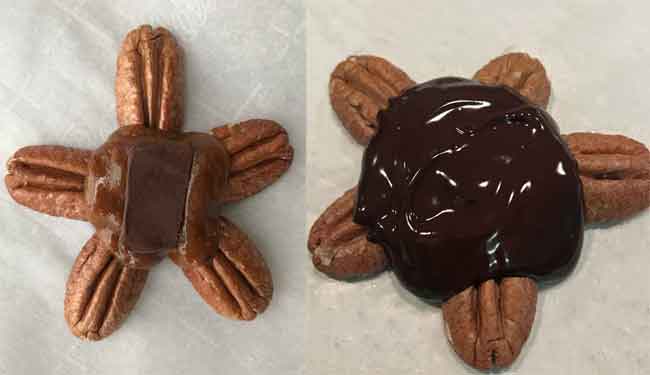 Chocolate Turtles
Another great use for Chocolate Sea Salt Caramels is Turtles.  You can make the turtles by arranging pecans in a turtle shape on parchment and spooning caramel over them or you can use my easy method.  The easy method is to make the caramel as written and make as many turtles as you need just by squishing a square of caramel over 5 pecan halves (arrange as one head and five legs, of course), then pouring chocolate over the whole thing.  This is a more leisurely way of making turtles in my opinion.
Recipe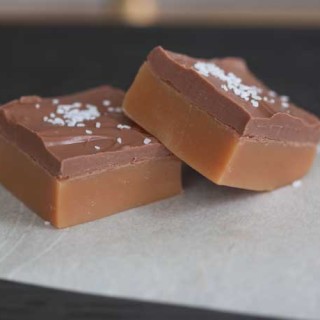 Chocolate Sea Salt Caramels
Chocolate Sea Salt Caramels are easy to make and call for condensed milk. You can top with sea salt, or just use some coarse kosher.
Ingredients 
2

sticks salted butter

softened (228 grams)**

2

cups

firmly packed light brown sugar

392 grams

¾

light corn syrup

1

14 oz can Eagle Brand condensed milk (392 grams)

2

teaspoons

vanilla extract

1

bag

10-12 oz milk or dark chocolate chips

2

teaspoons

coconut oil

Sea salt or Kosher salt
Instructions 
Line a 9 inch square pan with nonstick foil.

In a 3 quart nonstick saucepan, stir the softened butter, sugar, corn syrup and condensed milk together until fully blended. Turn on the heat and set it to medium. Cook, stirring every so often with a wooden spoon or heat proof scraper, until boiling (about 6 minutes)

Reduce mixture to a very soft boil – a little over a simmer. Insert candy thermometer and heat to 240 (soft ball stage), stirring often and making sure the heat is rising slowly and steadily. This should take about 20 minutes, and towards the end you'll notice the mixture darkening a bit. When mixture reaches about 240, remove from heat and stir in vanilla. Pour caramel into the pan. Let cool at room temperature for 2 hours, and then cover with melted chocolate.

Combine chocolate chips and coconut oil (or shortening) in a microwave-safe bowl and heat at 50% power, stirring every 30 seconds, until smooth and shiny. Pour chocolate over caramel.

Refrigerate until chocolate is set. When chocolate is set, lift from the pan and cut into squares.

Sprinkle with sea salt before serving.
Notes
You can also pour this over any shortbread crust as I did in the second photo. Now that I've made these a time or two, I think I prefer them without a crust.