It's been a while since I posted a chocolate cake recipe, so today I decided to try Chocolate Cake with Coffee Frosting from one of my favorite Junior League books, A Private Collection by the Junior League of Palo Alto. If you run across it at a tag sale or Half Price Books, don't think twice — just buy it! It's a real treasure, and I'm not the only one who thinks so. Debbie at Culinary Cellar has been using it for years. She's made more recipes from it then I have, but I'll catch up!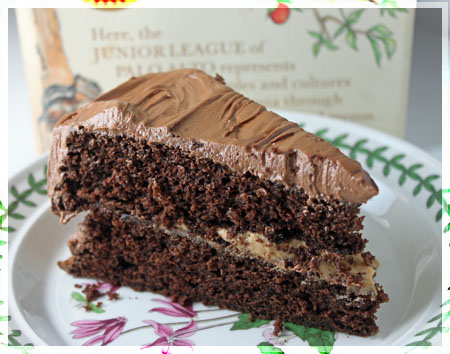 As for this particular recipe, I'm not sure why it took me so long to finally try it given that a) it's chocolate cake and b) the introduction goes like this: "Every baking enthusiast has a chocolate cake recipe that he or she considers the best. Some truly outstanding ones were submitted for this book, and for a time it seemed impossible to choose the one. After much testing, this recipe took first place as the richest and most appealing to true chocolate lovers. Beware!"
Beware, eh? Is that a challenge, Junior League of Palo Alto? Challenget taken.
I made the cake today and it was definitely good. Great, actually — but it has a few extra steps you should know about going into it. The first step involves melting the chocolate with some of the buttermilk, sugar, and an egg yolk, then setting it aside to cool. It takes a while for this mixture to cool, so there's no need to preheat the oven until you have completed the first step and the "custard" as they call it is almost cool.
Also, the cake has a coffee frosting, but there's no coffee in the cake. This is good news for those of you who don't use coffee, because you won't be missing anything if you leave it out. The frosting is another story. It's not a chocolate frosting, but a full-coffee flavored frosting. I love coffee, but didn't want coffee flavored frosting taking the place of chocolate frosting, so I made about 1/3 of the coffee frosting written below, used it as filling, then covered the cake with my favorite easy chocolate frosting. That turned out to be a good plan because the whole family enjoyed the cake and Fuzz found the small bit of coffee flavored frosting an interesting enhancement to the cake rather than some odd flavor taking up space where chocolate should be.
Chocolate Cake with Coffee Frosting
5 ounces bittersweet chocolate
1 1/4 cup buttermilk (divided use)
1 cup granulated sugar
3 large eggs, separated
1/2 cup (1 stick) softened butter, unsalted
1 cup light brown sugar
2 cups sifted cake flour
1 teaspoon baking soda
½ teaspoon salt
1 teaspoon vanilla
In a saucepan set over very low heat, melt the chocolate. Whisk in only 1/2 cup of the buttermilk, then whisk in 1 cup of granulated sugar and only 1 of the egg yolks. Stir and whisk for about 3 minutes over low heat to dissolve the sugar. Mixture should be shiny and thick. Set aside to cool. This should take about an hour.
Preheat oven to 350 degrees F. Butter and flour 2 9-inch cake pans or spray with flour-added cooking spray. (I sprayed mine and put a round of parchment on the bottom).
In bowl of a stand mixer, beat the butter and brown sugar until creamy. Beat in the remaining 2 egg yolks.
Sift together the cake flour, baking soda and salt. Add to the butter mixture in 3 parts, alternating with the remaining 3/4 cup buttermilk. Stir the cooled chocolate mixture and vanilla into the batter.
Beat the 3 egg whites until they are stiff but not dry. Fold into the batter. Pour into prepared pans.
Bake cakes for 25 to 30 minutes or until cake just begins to leave the sides of the pans or centers spring when cool to touch. Cool in pans set on a rack for about 10 minutes, then turn from pan and cool completely.
Spread layers with coffee flavored frosting.
Coffee Frosting (Full Batch) – for just the filling, make about 1/3 of a batch
1 cup unsalted butter, softened
3 cups confectioner's sugar
1/4 teaspoon salt
2-3 tablespoons instant coffee dissolved in ¼ cup hot water
2 teaspoons rum or brandy (optional)
Combine the butter and sugar and stir until sugar is moist. Slowly add the coffee and continue beating until mixture is creamy.