Last week I found a recipe for a make-ahead waffle batter with yeast which you chill overnight then bake the next morning.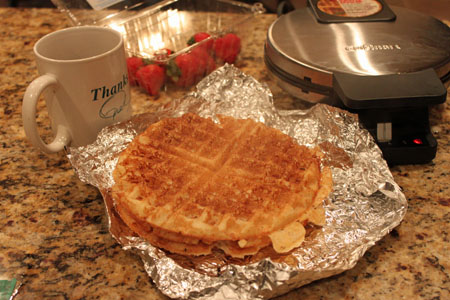 Make-ahead waffle batter is perfect for when you're in a hurry or for when you're just too tired to deal with measuring out the ingredients. I made a half batch of batter last night and cooked the waffles this morning. The batter smelled quite yeasty and it was very, very thin. To keep the waffle maker from overflowing, I had to pour it on very slowly. I also didn't bother greasing the waffle maker, which in this case was fine, since the waffles have enough butter in them to keep them from sticking.
The end result was crispy, flavorful (yeasty tasting, but in a good way), thin waffles.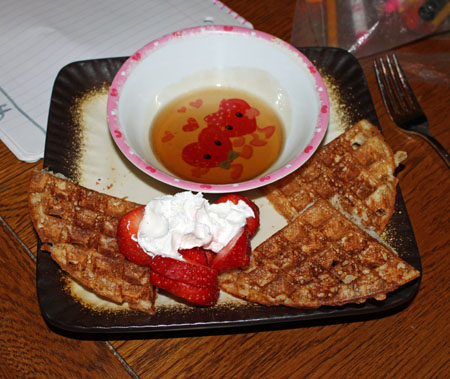 Fuzz only ate part of hers, but she's never enthusiastic about weekday breakfasts, anyway.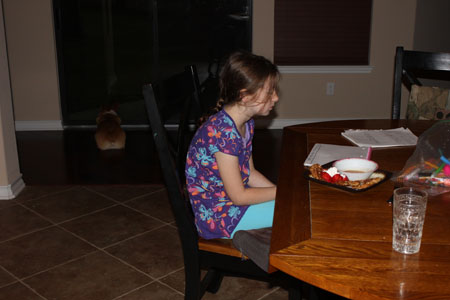 At least Lizzie appreciates a good waffle.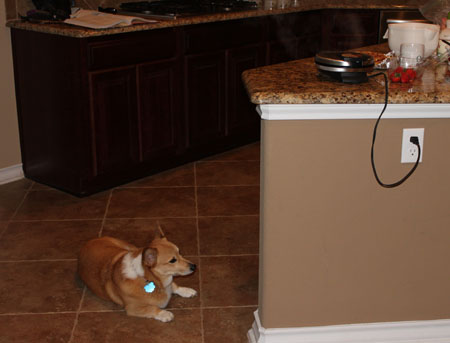 I baked all the batter, stacked the waffles between sheets of foil, and froze them.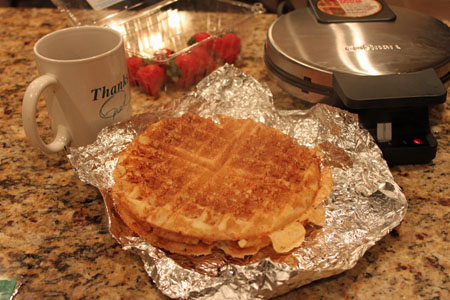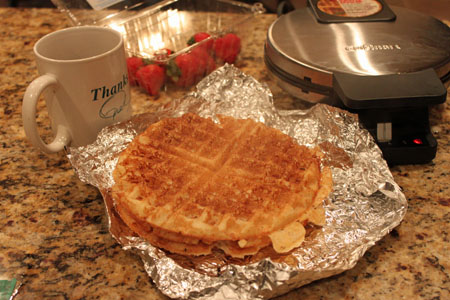 Make-Ahead Waffle Batter
Waffle batter made with yeast
Ingredients 
1

1/4-ounce envelope active dry yeast

1/2

cup

warm water

105° to 115°

2

cups

warm milk

105° to 115°

1/2

cup

butter or margarine

melted

1

teaspoon

sugar

1

teaspoon

salt

2

cups

all-purpose flour

2

large eggs

1/4

teaspoon

baking soda
Instructions 
Combine yeast and 1/2 cup water in a glass measuring cup; let stand 5 minutes.

Combine yeast mixture, milk, and next 3 ingredients in a large mixing bowl. Add flour, stirring until smooth. Cover and chill 8 hours.Whisk in eggs and baking soda.

Prepare in a waffle iron according to manufacturers directions. I used my little Cuisinart and made each waffle with approximately 1/3 cup of batter. It's thin, so if you're using a small waffle iron, pour it on slowly. Makes about 12 waffles (but varies, depending on size of waffle maker).