Sour Cream Waffles with fresh blueberries are perfect for long leisurely breakfasts like the ones we've been having .  Our family is officially on Spring Break and enjoying every minute of it.
Because this recipe involves whipping egg whites and using quite a few bowls, it's not exactly the type of thing I'd throw together on a weekday.  However, you can make extra waffles, freeze them, then throw them in the toaster on fast-paced mornings.
I hope you like these.  For crispier waffles, use oil instead of butter or keep the butter and just cook the waffles a little longer.  I have a Cuisinart single waffle maker and I think I cooked mine on a "5" or "6" to get it crisp.    This recipe is also very easy to halve.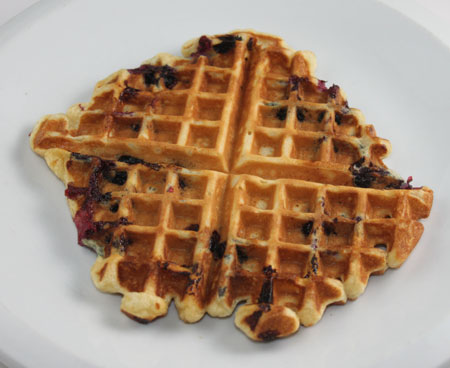 Summary: Sweet, fluffy and perfect for relaxing or celebratory breakfasts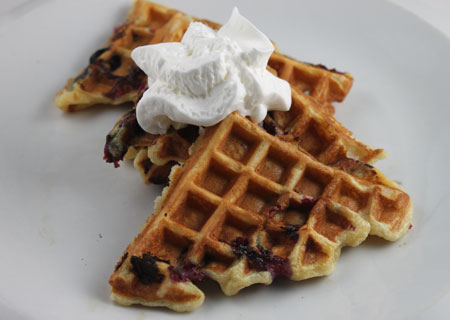 Ingredients
1 ¾ cups all-purpose flour (8 oz/230 grams)
2 tbsp. sugar
1 tsp. baking soda
½ tsp. salt
1 cup milk minus 1 tablespoon
1 tablespoon lemon juice
2 large eggs, separated
¼ cup melted, cooled butter or oil for crisper waffles
1 cup sour cream
¼ teaspoon vanilla
1 cup blueberries
Instructions
Mix together the flour, sugar, soda and salt and set aside. Mix together milk and lemon, set aside.
Beat egg whites with a hand-held mixer until stiff peaks form ; set aside. In a mixing bowl, beat egg yolks for about a minute on high. Reduce speed to low and beat in cooled melted butter (or oil), sour cream, vanilla and lemony milk
By hand, stir in flour mixture. Fold in the egg whites, followed by the blueberries. Bake on a well oiled waffle maker as per manufacturer's directions.
Quick Notes
For crispier waffles, use oil instead of melted butter
Variations
Use chocolate chips instead of blueberries
Cooking time (duration): 10
Diet type: Vegetarian
Number of servings (yield): 10
Meal type: breakfast
Culinary tradition: USA (General)
Microformatting by hRecipe.