In the previous post, I told you about a new cookbook from Morrow called Alice's Tea Cup by Haley Fox & Lauren Fox. I heartily recommend the book to everybody, but for now – here's a recipe!
I made the Mocha Chocolate Chip Scones and the Banana Butterscotch Scones. They were both fabulous, but I especially liked the Banana Butterscotch Scones which are made with sliced rather than mashed bananas. Not being a huge fan of cooked bananas, I was worried I might not care for the texture of the fruit when sliced and baked.  Luckily,  the baked banana slices fit in quite nicely and enhanced the overall texture while adding banana flavor.
Okay, now about those chips.  Haley and Lauren call for Hershey's butterscotch chips, but I swapped the butterscotch chips for Hershey's cinnamon chips and made Banana Cinnamon Chip Scones.  I'm definitely going to try them again with the butterscotch chips, but the cinnamon chips were great too (and what I had at the time).   I'll be milk chocolate or peanut butter chips would be good too.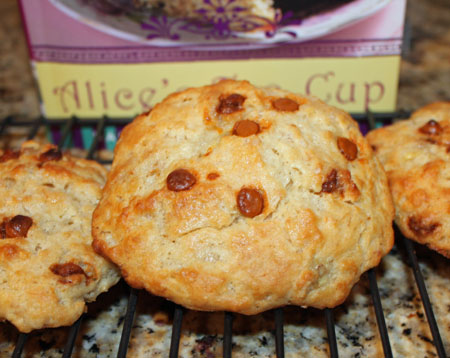 Here's the recipe as I made it. I did add a little extra milk by accident so my scones spread more, but they were still very tasty.
Banana Butterscotch Scones (adapted from Alice's Tea Cup)


3 cups all-purpose flour (13.5 oz)
1/3 cup granulated sugar
1/2 teaspoon baking soda
2 1/2 teaspoon baking powder
3/4 teaspoon salt (I used Morton Kosher)
1 1/2 sticks (6 oz) unsalted butter, cut into ½ inch pieces
2 bananas, sliced
1/2 cup Hershey butterscotch chips (or cinnamon chips!)
1 1/4 cups buttermilk
1 teaspoon pure vanilla extract
1/4 cup heavy cream for brushing tops
Sugar for tops (I used coarse sparkly sugar)

1. Preheat oven to 425 degrees F.

2. In a large mixing bowl, combine the flour, sugar, baking soda, baking powder and salt.

3. With clean hands, work the butter into the dry mixture until it is thoroughly incorporated and has the consistency of fine breadcrumbs. Add the sliced banana and butterscotch chips and combine well so that they are evenly distributed.

4. Make a well in the center of the dry ingredients and pour the buttermilk and vanilla into the well. Combine the ingredients until all of the dry mixture is wet, but do not knead!

5. Turn the mixture onto a floured surface and gather the dough together. Gently pat the dough to make a disk about 1 ½ inches thick. Using a 3 to 3 ½ inch cutter (I used a glass), cut out as many scones as you can and lay them on a nonstick cookie sheet. Gather the remaining dough together lightly and cut out more scones.

6. Brush the tops of each scone liberally with the cream and sprinkle with sugar.

7. Bake the scones for about 12 minutes or until lightly browned. Makes 10-12