'Tis the season for Cinnamon Chips!
Or at at least at my house. I guess there are some places where you can buy them every day,  but my local grocery store starts carrying them around the holidays, at which point I stock up.  Cinnamon chips are a great way to add flavor and touch of richness.  If you can't find them at any of your local grocery stores, you can order a 6-pack of Hershey's brand off Amazon.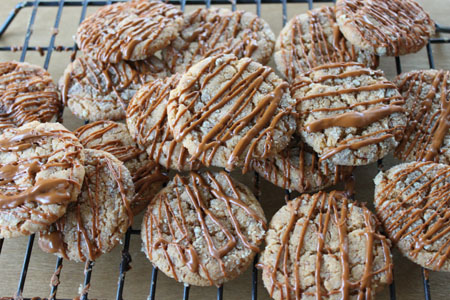 Anyhow, I baked these last weekend so that Fuzz would have something to take to the school cookie drive  which was scheduled during a time I was out of town.   While I would have preferred to serve them fresh, I froze them for a few days and am hoping they taste just as good as they did before I left.  They are quite a unique cookie.   Melted cinnamon chips go into the batter, and more melted cinnamon chips go on top.  To keep the cookies chewy, they use a little corn syrup.  And for extra flavor and texture, the cookies get rolled in finely ground (or chopped) pecans.  These took a little more work than oatmeal cookies, but the family liked them and I hope the teachers do too.