The Heart Shaped Chocolate Chip Cookies in this photo were made with a Nestle Toll House recipe called Mini Chip Cut-Outs. It's right here on Very Best Baking. Or at least now it is. If the link breaks, let me know. I've put an adapted version below in case they decide to remove the recipe. This is a good one, and a fun way to use the tiny little mini chips.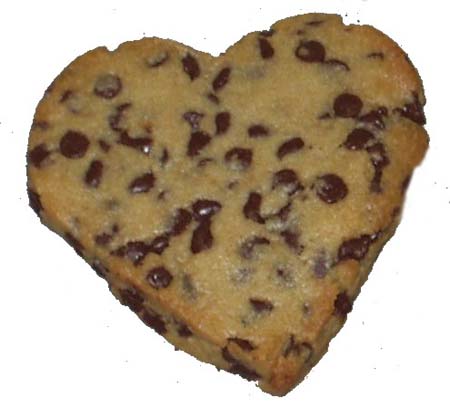 Tip: I've been making these for years. The texture is not quite the same as regular chocolate chip cookies, but rather more like a shortbread. For best results, weigh the flour, otherwise you may accidentally use too much.
Heart Shaped Chocolate Chip Cookies
1 cup (2 sticks) salted butter or margarine, softened (230 grams)
½ cup packed brown sugar (100 grams)
⅓ cup granulated sugar (65 grams)
2 teaspoons vanilla extract
½ teaspoon salt
1 large egg yolk
2 ½ cups all-purpose flour (320 grams)
2 cups semisweet mini morsels
With an electric mixer, beat the softened butter or margarine and both sugars until creamy. Beat in the vanilla, salt and egg yolk. Add flour 1 cup at a time and stir to make a dough. Stir in chips.
To make the cookies, roll dough about ¼ inch thick between sheets of wax or parchment paper. Cut into shapes. Bake on parchment lined baking sheets in a preheated oven at 350 for about 9 to 11 minutes.