If Chocolate Chip Bars aren't enough for you today, here's something a little more over the top. Rocky Mountain Bars are from a cookbook I got for Valentine's Day called "Creme de Colorado" by the Junior League of Colorado.
Different From Mississippi Mud Bars
At first glance, the recipe reminded me of Mississippi Mud Bars, but then I saw there were several differences including the addition of cream cheese. End result is a layer of nutty brownies topped with a rich chocolate chip and nut cheesecake topped with puffed marshmallows and a final layer of sweet chocolate cream cheese icing. If that's not enough for you than I don't know what is.
From the start, I knew these would be a gooey mess if I didn't allow them a good chill time, so I started these yesterday morning and let them chill all day before cutting in squares. I sent them to work with Todd and hope they go over well.
Rocky Mountain Bars aka Rocky Road Fudge Bars
Update: A few people pointed out that this recipe was an old Bake-Off entry from 1972 called Rocky Road Fudge Bars. It has great reviews on Pillsbury, and I am happy to say the ones I sent to work with my husband got great reviews as well!
Recipe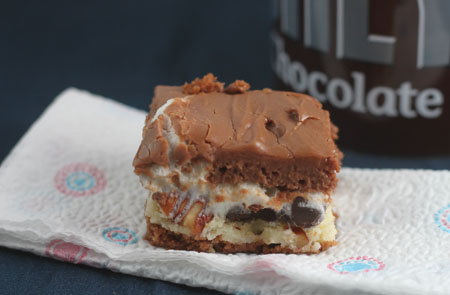 Rocky Mountain Bars
Rocky Mountain Bars
Ingredients 
Crust:
½

cup

butter

salted

1

oz

unsweetened chocolate

2

large eggs

1

cup

granulated sugar

1

tsp

vanilla

1

cup

all purpose flour

1

tsp

baking powder

½

cup

chopped nuts

toasted pecans
Filling:
6

oz

cream cheese

softened

4

tablespoons

softened butter

salted

½

cup

granulated sugar

1

large egg

½

tsp

vanilla

2

tablespoons

flour

¼

cup

chopped nuts (toasted pecans

6

oz

chocolate chips

dark

2

cups

mini marshmallows
Frosting:
4

tablespoons

butter

1

oz

unsweetened chocolate

2

oz

cream cheese

softened

¼

cup

whole milk

1

tsp

vanilla

3

cups

powdered sugar
Instructions 
Preheat oven to 350 degrees F. Line a 13x9 inch metal pan with foil and spray with cooking spray or Baker's Joy.

Melt butter and chocolate together in the microwave and set aside to cool slightly. Meanwhile, in a mixing bowl, beat eggs, sugar and vanilla until light and fluffy. Add melted chocolate mixture to eggs and beat well. Mix together flour and baking powder and stir (do not overbeat) into the batter along with the nuts. Spread in prepared pan and set aside.

In another bowl, beat together cream cheese, butter, and sugar until fluffy. Add the egg, vanilla and flour and stir just until mixed. Stir in nuts and spread batter in the pan covering the chocolate mixture. Sprinkle with chocolate chips. Bake at 350 F for 30 minutes. Remove from the oven and sprinkle with marshmallows. Return to oven for 2 minutes to puff marshmallows.

Frosting: Melt the butter and chocolate in a microwave-safe bowl and let cool. In a mixing bowl, beat melted chocolate mixture, cream cheese, milk, vanilla and powdered sugar until smooth. Spread over marshmallow layer. When I did this, I couldn't cover the entire layer of marshmallows and ended up leaving about ½ to 1 inch edges. Cool completely in the pan, then transfer to the refrigerator and chill for a good 4 hours or so.

When ready to cut, lift from pan and set on a big cutting board. With a chef's knife, trim the edges where the chocolate frosting did not reach. Now score the cake in half, then score each half into 12 bars so that you get 24 bars total.