The gingerbread I grew up on came courtesy of our family friend, Betty Crocker. My mother, or sometimes my grandmother, would pull out a box of gingerbread mix, bake it, and serve it to the family in the living room. Nobody cared that it was from a box, and I have good memories of impromptu gingerbread made on happy, cold, evenings by someone who was in a good enough mood to go bake it.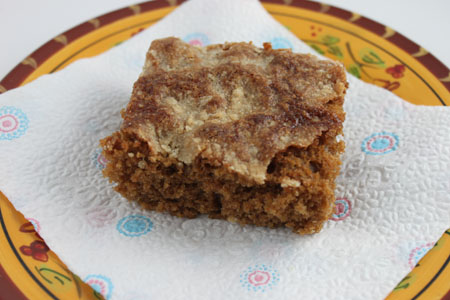 In my teens I tried to impress the family by making scratch gingerbread. It was darker and less sweet than the box mix, but that's all I can remember. At some point I stopped making it and forgot which recipe to use.
With the cold months, I've been thinking about reviving the gingerbread tradition and looking through scratch recipes that might be like the one I used to make. Yesterday I baked this one from The Dairy Hollow House Cookbook. It's interesting in that it starts with a dry mixture and the fat (butter, but you can use shortening if you want) is cut in before adding the wet ingredients. The result is an ultra-moist cake that tastes even better on Day 2 when the flavors have settled. Fuzz seemed to like this and I thought it was good, but it wasn't quite as molasses-y as I remember my old recipe to be. It is a favorite of many, however, and after I made it I found a few other bloggers who raved about it. If you like rich, sweet, gingerbread, this one's worth a try. In the meantime, I'm still on the hunt for one that's dark, spicy and less sweet.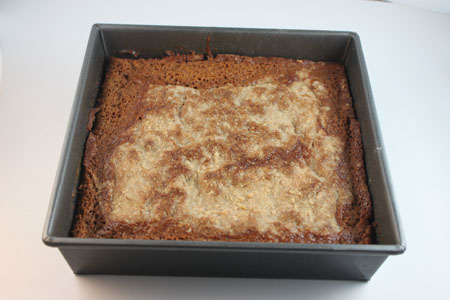 Dairy Hollow House Gingerbread
1 1/2 cups all-purpose flour (6.8 oz)
1 cup sugar
2 teaspoons ground ginger
1 teaspoon cinnamon
Pinch of nutmeg (I left that out)
1 stick regular butter
1 large egg
3 tablespoons molasses
1 cup buttermilk
1 teaspoon baking soda
Scant teaspoon salt
Preheat oven to 350 degrees F. Spray a 9 inch square metal pan with flour-added cooking spray
In bowl of a food processor, combine flour, sugar, ginger, cinnamon and nutmeg. Add butter and pulse until mixture is coarse. Reserve ¼ cup for topping. At this point you can dump the mixture into a bowl (which I've seen other people do) or just do it all in the processor, which is how I did it.
Add egg and molasses and pulse to mix. In a cup, mix together the buttermilk, baking soda and salt. Add to processor and process until mixed. Batter will look a little lumpy with clumps of cold butter.
Pour into pan, sprinkle topping over top, bake on center rack for 30 minutes. Let cool.