My grocery store has a lot of "buy something get something free" deals, and the latest one was buy a pack of K-cups and get a free pint of So Delicious brand non-dairy coconut milk creamer. I honestly would have never bought that given that we drink our coffee black, but since it was free and I figured I could do something with it, I took advantage of the offer. This pie was the result.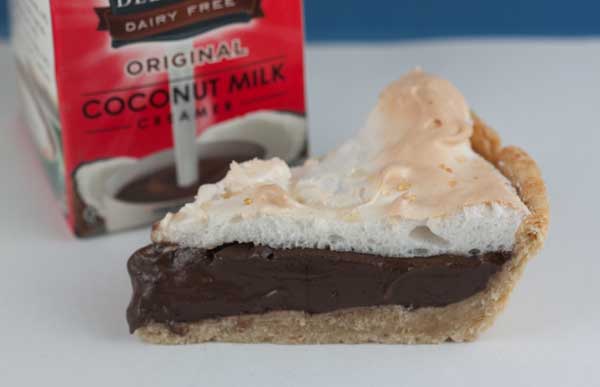 A Basic Dairy Free Chocolate Pie
It's a basic chocolate pie (you can use regular butter and whole milk if you're okay with dairy) or you can make it with the SO Delicious coconut milk creamer. Normally, I like my chocolate pies with whipped cream on top, but since this one is non-dairy I used meringue. If you don't like meringue, you could use a non-dairy whipped topping instead. The filling is delicious and does not taste like coconut, though it is on the sweet side.
King Arthur's No-Roll, No-Dairy Pie Crust
As for the crust, I tried King Arthur's No-Roll No Dairy Pie crust and it worked perfectly. I haven't been that impressed with oil-based pie crust recipes in the past, but the KA crust was pretty good even though it was on the tough side (I might have been a little rough with it). So even if you're not interested in this pie, you might want to hop on over to the King Arthur site and take a look at the no-roll oil crust recipe. They used to call it oil crust but they changed the name to a snappier sounding "No Roll Pie Crust".
Recipe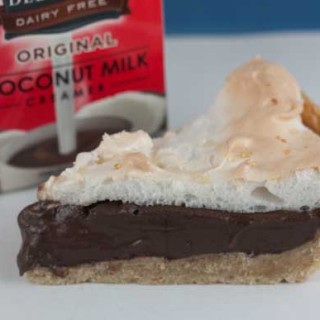 Dairy Free Chocolate Pie
Dairy Free Chocolate Pie is made with a milk-free pie crust, coconut creamer in place of milk and non-hydrogenated margarine instead of butter. To make a regular dairy version, use whole milk and replace the margarine with butter. You can also put the filling in a store bought non-dairy shell, but you might have some leftover. As for the meringue, it's a pretty thin layer. That was fine with us, but if you want a big, billowing meringue top you should probably double it.
Ingredients 
One homemade or nondairy pie crust

see notes
Filling:
2

tablespoons

cornstarch

2

tablespoons

flour

⅛

teaspoon

salt

¼

cup

unsweetened natural cocoa powder

1

scant cup sugar

2

cups

Dairy Free Coconut Milk Creamer

I used So Delicious brand regular flavor coconut

3

egg yolks

2

tablespoons

non-dairy vegan butter

Earth Balance or butter

1

teaspoon

vanilla extract
Meringue Topping:
3

large

egg whites

⅛

teaspoon

cream of tartar

¼

cup

sugar

¼

teaspoon

vanilla extract
Instructions 
Preheat the oven to 350 degrees F and have all your meringue ingredients measured out and ready to go so you can make the meringue quickly and put it on the hot filling.

Combine the flour, cornstarch, salt, cocoa, sugar and egg yolks in a 3 quart metal saucepan and stir with a heavy duty heat proof scraper or a spoon. Gradually stir in the coconut creamer until smooth. Put the mixture over medium heat and stir constantly until large bubbles form on the surface. Boil and stir for another minute at the lowest temperature at which you can still maintain the boil.

Remove from heat and stir in the butter and vanilla. Set aside and make meringue.

Beat the egg whites and cream of tartar until foamy, then gradually add the sugar and continue beating until stiff peaks start to form. Quickly beat in the vanilla.

Transfer the hot chocolate filling from the saucepan to the pie shell, then put the meringue on the hot filling. I like to drop blobs of meringue around the edges first to seal, then drop gobs of meringue into the middle part, gently spreading to cover filling.

Bake pie at 350 for about 15 minutes or until meringue starts to brown. Let it cool at room temperature for about an hour, then transfer to the refrigerator to chill.
Notes
Non-Dairy Pie Crust: Mix 2 cups (9 ounces) of all-purpose flour with ½ teaspoon of salt, ⅜ teaspoon baking powder and 2 teaspoons sugar. Mix together ¼ cup of water and 7 tablespoons of vegetable oil, then add oil/water mixture to flour mixture. Stir until blended, pour into a 9 inch deep dish pie plate, then press into bottom and up the sides. Cover with parchment paper and weigh down with pie weights. Bake at 425 for 20 minutes, then remove parchment and weights and bake at 350 until bottom appears dry. http://www.kingarthurflour.com/recipes/no-roll-pie-crust-recipe