Harry's Roadhouse Chocolate Chunk Cookies is a recipe recommended by a friend who loves the desserts at Harry's Roadhouse in Santa Fe. While Harry's coconut cream pie is her favorite, she she says their chocolate chunk cookies are also exceptional.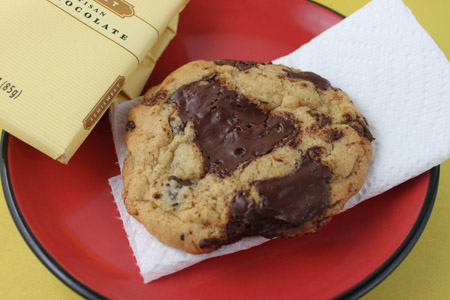 Along with being convenient and not requiring any specialty flours or extended dough chilling time, Harry's Roadhouse Chocolate Chunk Cookies are tasty, soft, dense (not cakey) and loaded with chocolate; or at least mine were. Harry's uses 12 oz of chunks per 4 cups of flour, but I probably used about 18 oz of chocolate.
You might also notice that this recipe calls for less butter than most. The Toll House recipe has 2 ¼ cups of flour and a full cup of butter. This one has 4 cups of flour and one cup of butter, plus extra eggs and sugar so you get a fairly sturdy, not-too-fatty dough that can hold lots of good quality chocolate without spreading too much.
And finally, this recipe gives you 24 big cookies – a generous yield for a recipe that makes ¼ cup size cookies. Enjoy.

Harry's Roadhouse Chocolate Chunk Cookies
4 cups all-purpose unbleached flour (18 oz)
2 teaspoons baking soda
1 teaspoon salt
8 oz butter (I used regular, salted, KerryGold Irish Butter)
1 ½ cups brown sugar, packed
1 cup granulated sugar
4 large eggs, room temperature
1 tablespoon vanilla extract
12 oz good quality semi-sweet or bittersweet chocolate (I used more), cut into chunks
Preheat oven to 350 degrees F if you plan to bake immediately, or skip if you want to chill the dough. I chilled mine for about an hour because I had things to do.
Mix together the flour, baking soda, and salt and set aside.
In bowl of a stand mixer, beat the butter until creamy. Add the sugars and beat until light. Reduce speed to low and beat in the eggs and vanilla. When incorporated, add the dry ingredients in two parts, beating on low speed with the paddle attachment.
When flour is incorporated, stir in the chocolate chunks. Chill dough OR scoop by quarter cups to get 24 mounds. I actually like to chill my dough AFTER I make the mounds, but that's not necessary.
Bake on an ungreased or parchment lined cookie sheet on center rack for about 14 minutes or until the cookies start to looks set. Remove from oven and drop cookie sheet on the counter to deflate cookies a little. Return to oven and bake for another 2-3 minutes or until the cookies are brown around the edges and appear set. Let cool for 5 minutes on sheets, then transfer to wire rack to finish cooling.
Makes 24