Happy to have another opportunity to serve them, I decided to make the delicious Vanilla Bean Cupcakes for today's Bake for Japan event.  But I wasn't thinking.  This was a bake sale not a school party, and at the last minute it dawned on me that I needed the cupcakes individually wrapped.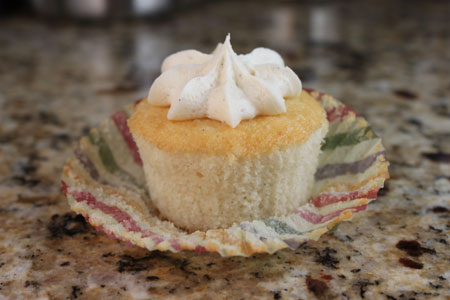 Packaging Cupcakes in Clear Cups
Uh oh. Not wanting to spend a crazy amount of money on ready-made cupcake boxes (though they are very cute), I came up with this idea. Of course others have already had the idea and I don't know why it didn't occur to me until this morning, but Todd brought home a pack of clear plastic cups from the grocery store and we combined those with the treat bags to do this.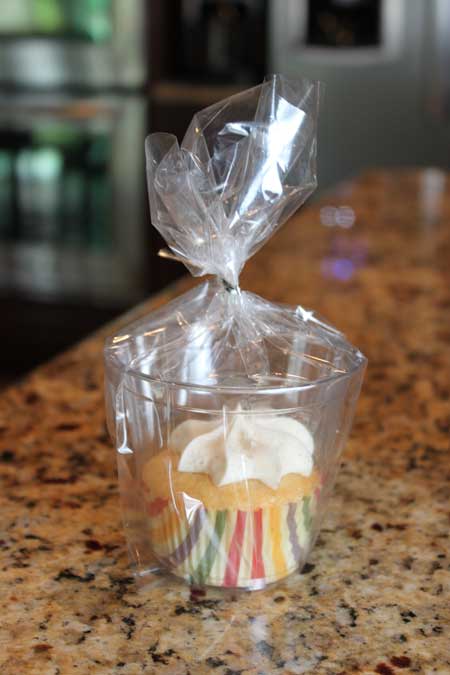 The cups were Hefty Crystal Clear 9 oz and were the perfect fit for a standard size cupcake. The treat bags were a brand called "Celebrations" which we found at Michael's, and they fit snugly around the cups holding the cupcakes.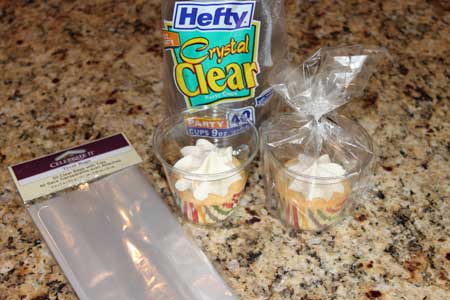 You just stick the cupcake in the cup, gently turn the cup on its side (it's good to frost the cupcake in a way where there's a rim of cake between to frosting between the paper and the frosting), slide the cupcake into the bag and tie off the end.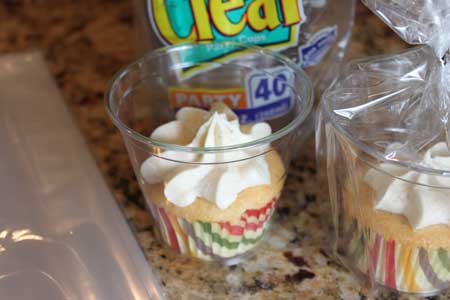 Because of the big twisty tie tops, I only fit 12 cupcakes in the top level of the carrier, which I didn't even really need to use since the cupcakes fit so securely in the Hefty cups.  I could have just thrown them all in a box!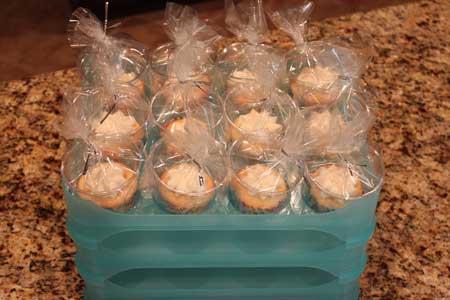 As for the bake sale, I have lots of photos to post and will share them a little later. While you might think one bake sale wouldn't do much, proceeds from our bake sale combined with other events going on around the city and country, make an impact.