One of my favorite subjects came up on Epicurious the other day. Joanne Camas from the Epi Log mentioned she was obsessed with brownies and listed 10 Best Brownie Recipes based on fork reviews. I've tried quite a few on the list, the most recent being the Browned Butter Walnut Brownies, but the recipe that really got my attention was Milk Chocolate Brownies.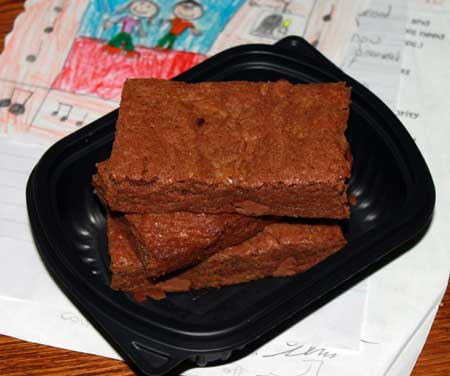 If you bake a brownie with milk chocolate, can you really even taste the milk chocolate???
The answer is yes!  Boy, was I ever surprised.  I figured the brownies would just have a lighter chocolate flavor and be sweet.  Well, they are kind of sweet (but not overly so) and the milk chocolate flavor really does come through.  Because I found some in my pantry, I used Cadbury Dairy Milk Chocolate.  And because I didn't have enough chocolate to make a full 8 oz, I halved the recipe and baked it in a standard 9x5 inch loaf pan.
That worked perfectly (once I'd trimmed the edges, of course) and gave me just enough brownies to share and move on.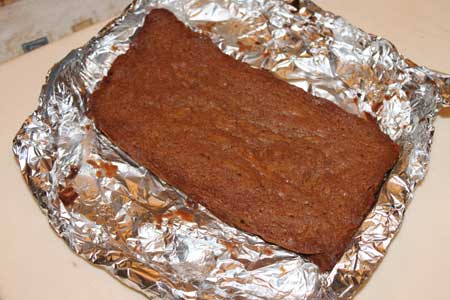 Also, while I originally thought this would be a great way to use excess milk chocolate Easter candy, I'm going to have to change my stance and say the brownies are worthy of premium milk chocolate.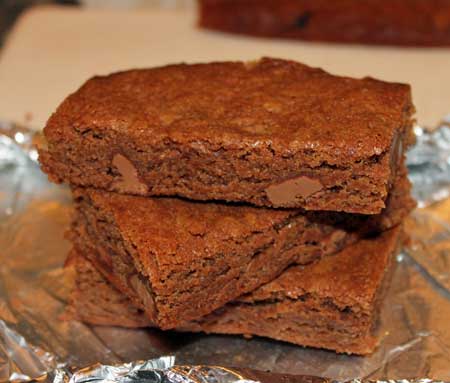 Milk Chocolate Brownies
1 stick (114 grams)unsalted butter
8 ounces fine-quality milk chocolate, chopped
¾ cup (165 grams) packed light brown sugar
1 teaspoon pure vanilla extract
2 large eggs
¾ cup (95 grams) all-purpose flour
1 tablespoon unsweetened cocoa powder
½ teaspoon salt
¼ teaspoon baking powder
Preheat oven to 350°F. Butter and flour a 9-inch square baking pan or if halving the recipe, use a 9x5 inch loaf pan.
Melt butter and half of chocolate in a 1 ½-quart heavy saucepan over low heat, stirring, until smooth or in a microwave-safe mixing bowl -- especially if you're making a half batch. Remove from heat and cool to lukewarm. Stir in brown sugar and vanilla. Add eggs 1 at a time, whisking or beating lightly with a spoon, until mixture is glossy and smooth.
Whisk together remaining ingredients, then stir into chocolate mixture. Make sure the batter isn't too warm, then stir in remaining chocolate (you want it to stay in chunks). Spread batter in pan and bake until a wooden pick or skewer comes out with a few moist crumbs adhering, 25 to 30 minutes. A loaf pan takes 25 minutes.