Small Batch Cream Cheese Biscuits is my take on the Cream Cheese Biscuits featured in an issue of Cook's Country. I really need to post a new and better photo because the biscuits deserve one. They're really good. The cream cheese lightens them a bit and adds flavor.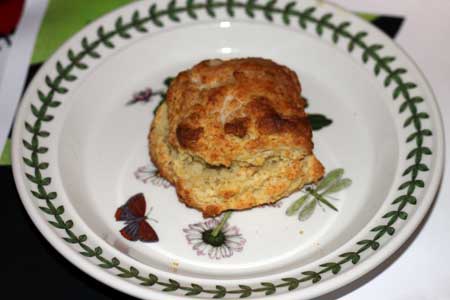 As mentioned, the recipe is from Cook's Country, where they used a food processor and froze both the cream cheese and butter. I halved their recipe, skipped the food processor, skipped the freezing step, and still ended up with some ultra tasty biscuits. The key here is not overworking the dough, which involves simply shaping it into a rectangle and cutting the biscuits into squares. My version of the recipe makes six. They're not gloriously sky high biscuits, but they taste really good and remind me of the biscuits at KFC
Small Batch Cream Cheese Biscuits
3/4 cup (3.4 oz) flour (95 grams)
3/4 cups (3 oz) cake flour (95 grams)
2 teaspoons sugar (8 grams)
1/ 1/2 teaspoons baking powder
1/2 teaspoon salt
3/8 teaspoon baking soda
2 ounces cold cream cheese (cut into cubes) (56 grams)
2 tablespoons cold butter (cut into cubes) (28 grams)
1/2 cup plus 1 tablespoon buttermilk (128 grams)
Butter for topping the biscuits
Preheat oven to 450 degrees F. Line a cookie sheet with non-stick foil or parchment paper.
Mix the flours, sugar, baking powder, salt and baking soda in large bowl. Add cream cheese and butter and work the fat into the flour with your fingers until you get a crumbly mixture. Add the buttermilk and stir with a spoon until mixture comes together.
Turn the dough out onto a floured board and push it all together to make a 4×6 inch rectangle. Cut into 6 squares and put biscuits on baking sheet. Bake on center rack for 12 to 15 minutes or until they have puffed and are golden brown. As soon as they come out of the oven, brush the tops with butter. As delicious as these biscuits were with the cream cheese, they really did benefit from the extra finish of butter on the top.
Makes 6