Hello from Atlanta, where I'm attending a conference for food bloggers and, well, roaming around. I might sneak out early and try to catch the dolphin show at the aquarium, but first I thought I'd tell you about this recipe for cream cheese biscuits.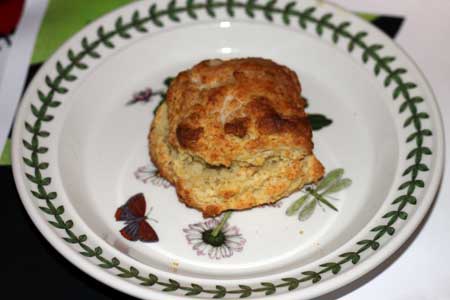 Not long ago, Cook's Country ran a story on biscuits made with cream cheese. It's a long story that emphasizes cream cheese's lightening effect on biscuits, how you shouldn't overwork the dough, and yada, yada, yada, but I'm going to skip all that and just tell you how I made the cream cheese biscuits.
Cook's Country used a food processor and froze their cream cheese and butter. I halved their recipe, skipped the food processor, skipped the freezing step, and still ended up with some ultra tasty biscuits. The key was not overworking the dough, which involved simply shaping it into a rectangle and cutting the biscuits into squares. My version of the recipe made six. They're not gloriously sky high biscuits, but they taste really good and had a texture that reminded me a lot of KFC's (but better).
Small Batch Cream Cheese Biscuits
3/4 cup (3.4 oz) flour
3/4 cups (3 oz) cake flour
2 teaspoons sugar
1/ 1/2 teaspoons baking powder
1/2 teaspoon salt
3/8 teaspoon baking soda
2 ounces cold cream cheese (cut into cubes)
2 tablespoons cold butter (cut into cubes)
1/2 cup plus 1 tablespoon buttermilk
Butter for topping the biscuits
Preheat oven to 450 degrees F. Line a cookie sheet with non-stick foil or parchment paper.
Mix the flours, sugar, baking powder, salt and baking soda in large bowl. Add cream cheese and butter and work the fat into the flour with your fingers until you get a crumbly mixture. Add the buttermilk and stir with a spoon until mixture comes together.
Turn the dough out onto a floured board and push it all together to make a 4×6 inch rectangle. Cut into 6 squares and put biscuits on baking sheet. Bake on center rack for 12 to 15 minutes or until they have puffed and are golden brown. As soon as they come out of the oven, brush the tops with butter. As delicious as these biscuits were with the cream cheese, they really did benefit from the extra finish of butter on the top.
Makes 6