These Baby Ruth Cookies are from a recipe my mother gave me, thus I have no idea the true source.  According to a Taste of Home Bulletin Board, it's from an old Baby Ruth wrapper. The version I used did not have an egg, but after doing some comparisons, most versions DO have an egg and I'm assuming the one on the wrapper did too.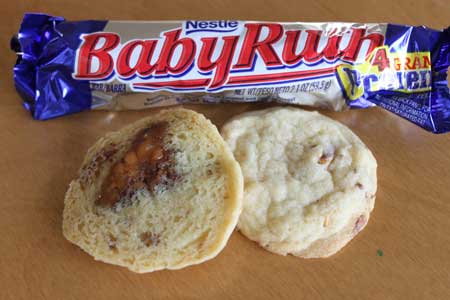 Despite the missing egg, the cookies were okay. I would have enjoyed them more if a) the candy hadn't leaked out all over my lined pan and b) I hadn't done so much "quality checking" with my ingredients. Eating the ingredients as I bake has become a bad habit, and now by the time I'm done baking, the cookies aren't as appealing. These cookies were much tastier a few hours later after they'd cooled completely.
If you have some Baby Ruth candy on hand, love extra chewy cookies and are curious, then I recommend the recipe. If you make it, chop the Baby Ruth bars into very small bits and make sure to work them completely into the dough. Mine melted all over the place because I cut the candy into big chunks and some of them were sitting right on top of the balls of dough.
Here's an updated link to what appears to be closer to the original recipe. I think the cookies will be better with the egg.