This weekend I discovered another no-bake dessert. It's an easy lemon mousse recipe -- the perfect accompaniment to fresh berries and 100 degree weather.
This recipe makes 8 small servings, which you divide equally among your most elegant serving bowls or glasses. In this case, I used some wide (as opposed to the fluted type) crystal champagne glasses my grandmother gave me. They were the perfect shape for filling with mousse, then creating a whipped cream center and a little moat around which to add berries. I think you could also do the same thing with a cheap-o wine glass, though....or custard cups.
Finally, and maybe this is the best part: the recipe can easily be scaled down to serve 4 or two. I actually quartered the recipe using ¼ cup cream, 2 grams gelatin, ½ T. water etc. and got perfect results.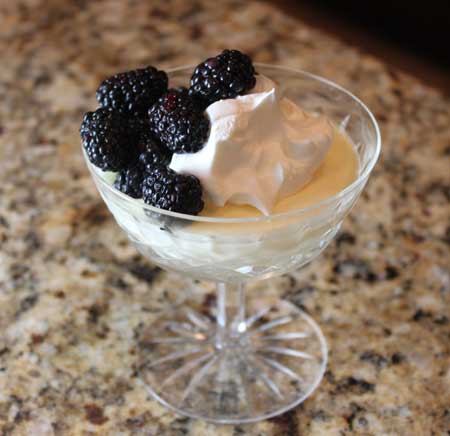 Too Easy Lemon Mousse with Fresh Berries
1 cup heavy whipping cream plus another ¾ cup for topping
1 envelope (7 grams) unflavored gelatin
2 tablespoons water
⅓ cup fresh lemon juice
4 large eggs, use pasteurized if you are pregnant or just want to
1 cup granulated sugar
¾ teaspoon vanilla extract
1 tablespoon powdered sugar( use more or less as desired)
Fresh berries
Whip 1 cup of the cream and set it aside. Soften gelatin in water in a small saucepan. Heat slowly until gelatin is dissolved, then let cool. Add lemon juice. Using an electric mixer, beat the eggs and sugar until thick and lemon colored. Beat in the gelatin mixture. Fold in the whipped cream and pour into the glasses, dividing evenly. Chill for a few hours or until set.
When ready to serve, beat the remaining ¾ cup of whipping cream until soft peaks form. Add the sugar and vanilla and beat just until peaks are stiff. Put a dollop of sweetened whipped cream in the center of each mousse cup and garnish with fresh berries