The banana pudding I made earlier in the week somehow got me thinking about the Little Bucket Pudding Parfaits Kentucky Fried Chicken used to sell. They were discontinued long ago, but every now and then I remember the time my parents actually bought some for us. Dessert was mostly an afterthought when we went to KFC. Does anyone go their for desserts? Maybe that's why the little buckets are no more. Anyhow, I decided to make something similar for the family.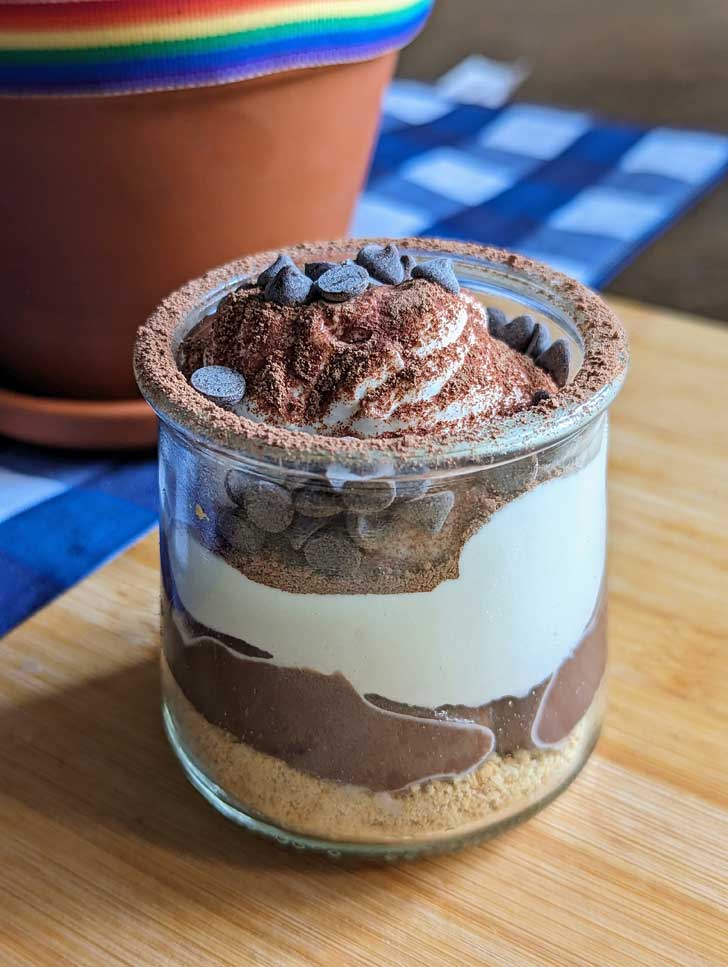 This used to be a recipe where you just laid the graham crackers flat in a dish, spooned pudding over the crackers and topped with whipped cream. That is do-able, but if you're making a big casserole dish you might as well make Chocolate Lasagna. I wanted individual servings this time, plus I have a ton of little glass yogurt containers.
Repurposed Oui Yogurt Containers
So my little buckets aren't actually buckets but rather repurposed glass yogurt containers -- specifically, the Yoplait Oui type. I hope they never stop selling them in the glass containers, but I feel like they will so I've been doing my best to buy them as often as possible. They remind me of when we were in France and bought some mustard in a glass container that had Star Wars characters on it and no lip, so it could easily be repurposed into a drinking glass. I love it when you can repurpose any sort of packaging.
Graham Mixture
I went back and forth as to whether the crumb layer should be straight up ground graham crackers or crushed graham pie crust. My family did a taste test. Fuzz said there was more of a reward at the end of the glass with the baked graham crust mixture, but didn't mind the straight up grahams. I liked both equally and vaguely remember the crumbs at the bottom of the original little buckets as being kind of sandy like straight grahams. It really depends on how much time you have, so I put both versions there. Next time I'll use Barnum's Animal Crackers.
Pudding Mixture
This is a small serving of pudding that tastes rich even though there are only 2 tablespoons of cocoa and a tiny bit of butter. This is a super easy recipe, and since it's a small amount you can cool it down quickly by spreading it on a cold dinner plate, covering and chilling for about 20 minutes. If you want to use a different pudding, that's fine too. The family loves this Almond Milk Chocolate Pudding. Combine it with a dairy free whipped topping, and you'll have a dairy free Little Bucket copycat.
Whipped Cream Topping
Fresh sweetened whipped cream is what I used for this batch, and it makes the parfaits really special. With such a small dessert, it's best to take the time to whip the cream yourself. If you are going with the dairy free option, you can use whipped coconut milk or one of the newer dairy free whipped toppings. There are so many now!
This was really fun to make. It's simple, but something we all enjoyed. Next up is the banana version...
Recipe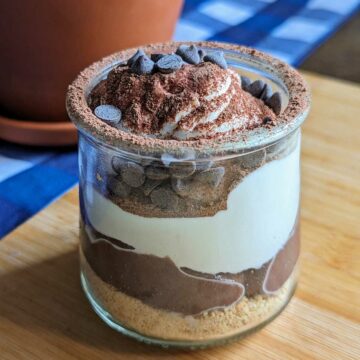 Little Buckets Parfait
Ingredients 
⅔

cup

graham cracker crumbs (from 9 squares)

1

tablespoon

sugar

2

tablespoon

butter, softened

tiny

pinch

salt, can omit if using salted butter
Quick Pudding
¼

cup

sugar

2

tablespoons

unsweetened cocoa powder, Dutch or Natural

1 ½

tablespoons

cornstarch

1

cup

whole milk

1

large

egg yolk

½

teaspoon

vanilla extract

1

teaspoon

unsalted or salted butter (optional)

1

tiny

pinch of salt
Whipped Cream Topping
¾

cup

heavy cream

2

tablespoons

powdered sugar

½

teaspoon

vanilla extract or vanilla bean paste
Instructions 
Make the crumb mixture first. Mix all ingredients, empty onto a parchment lined baking sheet and press into a slab. Bake at 350F for about 8 minutes or until it smells toasty, then remove and let cool. Break apart into crumbs.

Alternatively, you can just grind the graham crackers into crumbs and use them straight.

In a saucepan, off heat, whisk together the sugar, cocoa powder and cornstarch. Whisk in the milk gradually, then whisk in the egg yolk. Whisk until everything is evenly blended.

Put the mixture on the stove over medium (you may need to use medium low depending on stovetop) heat and cook, whisking constantly, until mixture begins to bubble and thicken. It should only take about 5 minutes, After it starts to boil and thicken, continue boiling and stirring for 1 minute, then remove from heat and let cool slightly.

Stir in the butter and vanilla. Add a dash of salt to taste. Scrape into a bowl. If you need it to cool faster, you can scrape it onto a plate (which I always do) Cover directly with a buttery piece of wax paper to prevent a skin from forming, then let cool slightly before transferring to the refrigerator to cool completely.

Prepare the whipped cream. With an electric mixer, beat the cream until soft peaks just start to form. Beat in the sugar and vanilla and continue beating to stiff peaks.

To assemble the parfaits, divide crumb mixture evenly between 4 little glass cups (recycled glass yogurt containers).

Spoon a layer of chocolate pudding mixture over the crumbs, then spoon on a layer of whipped cream *or* put it in a zipper bag, cut off the bottom tip and pipe. Optional: Garnish with cocoa powder and mini chocolate chips if you have some around.