This is one of my favorite cream scones recipes. They can be made as Lemon Raspberry Scones, Lemon Blueberry Scones or just plain Blueberry Scones. Unlike biscuits and heavier type scone, cream scones are light and crumbly.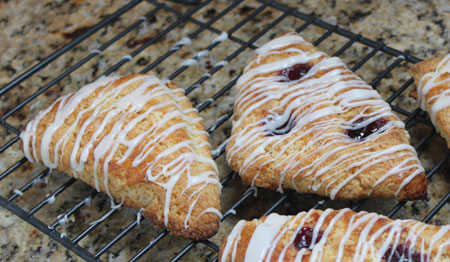 If you make them as triangles, be prepared for them to spread a bit. If you are new to scone making, it might be easier to just make them as rounds.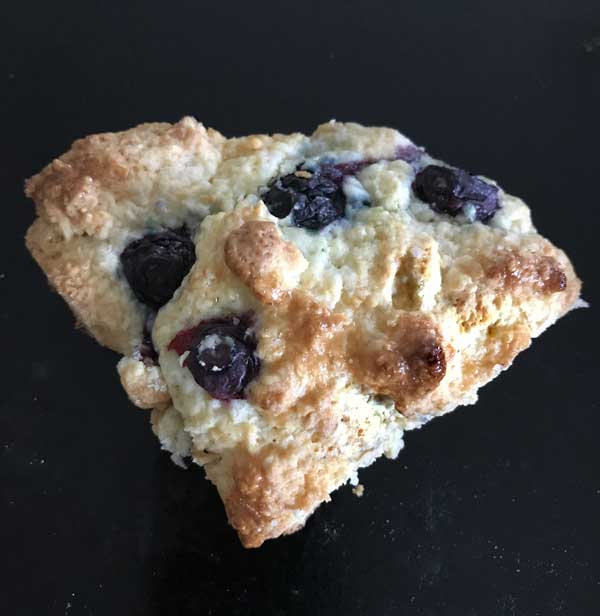 Raspberry or Blueberry Cream Scones
6 tablespoons granulated sugar
1 tablespoon lemon zest (optional)
2 cups (260 grams) all-purpose flour
1 tablespoon baking powder
1/2 teaspoon salt
3 tablespoons very cold unsalted butter, cut into 1/4-inch pieces
1 egg yolk
3/4 to 1 cup heavy or whipping cream
1/2 teaspoon vanilla extract
1 cup fresh raspberries or blueberries
2 tablespoons of beaten egg for brushing
Lemon Glaze
1 tablespoon melted butter
About 1 cup confectioners' sugar
1 tablespoon fresh lemon juice
2 tablespoon heavy or whipping cream
Preheat oven to 400ºF. Have ready a heavy duty baking sheet lined with parchment paper or nonstick foil.
In the bowl of a food processor, mix the sugar and lemon zest by pulsing until the sugar is fragrant.
Mix together the flour, baking powder, and salt. Add to the processor and pulse to mix. Add the butter and pulse until mixture is coarse.
Combine the egg yolk with 3/4 cup of cream and vanilla. Add the cream/yolk mixture to the food processor and pulse just until mixture forms big, most lumps. If the dough seems dry, add remaining cream 1 tablespoon at a time.
Empty mixture onto the baking sheet and scatter berries without crushing them. Carefully push everything together to form a large square (about 6 or 7 inches). With knife, cut the square into 4 squares, the cut each square in half diagonally so that you have 8 triangles. The triangles should be crumbly and delicate. Arrange them on the tray a few inches apart so they have room to rise.
Alternatively, you can just divide the dough into 6 or 8 round scones.
With a pastry brush, dab a little beaten egg over the top.
Bake the scones on center rack of oven for about 16 to 18 minutes. Allow them to cool on the sheet for a few minutes and then transfer them to a wire rack.
Make the glaze. Mix the butter and sugar, then stir in the lemon juice and whipping cream until you get a smooth icing that's a good consistency for drizzling.