A few weeks ago I traded my neighbor a loaf of King Arthur's Harvest bread for a big slice of homemade apple coffee cake. It was one of the best apple coffee cakes I've ever tasted, and she was happy to share the recipe. It;s called "Laura Goodenough's Apple Coffee Cake" from the New York Times Cookbook.
Loaf Pan Apple Coffee Cake
The original recipe is made in a Bundt or Tube pan, but I was determined to halve it so I did just that and baked it in a loaf pan. The one I used, an 8×4 inch pan, was a bit too small and the cake had giant ridges like you see in the picture. I would be lying if I didn't tell you they were really fun to break off and eat, but the cake would have looked better baked in an larger loaf pan. For the apples, I used a mixture of Macintosh, Gala and big green Michigan apples. And for the cinnamon, I used 2 1/2 teaspoons. That sounds like a lot of cinnamon, but it was not.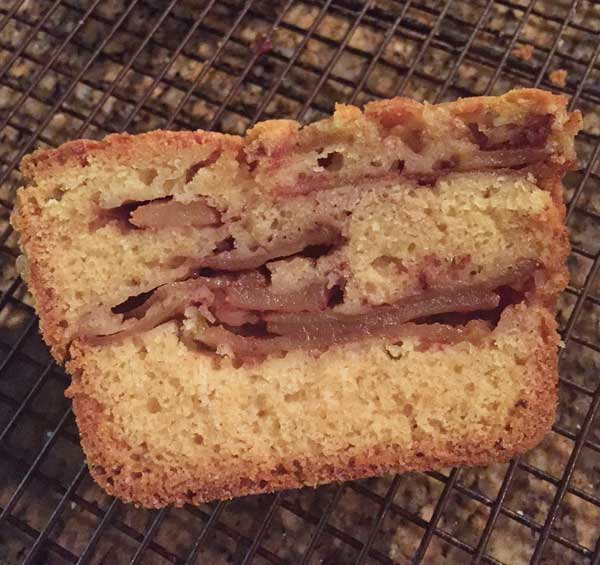 This cake was truly the best apple coffee cake I've had. I especially loved the thin slices of apples running through the cake. If you try it, let me know what you think. I told another friend about it and while she was curious, she recommended yet another recipe so maybe I'll have a second cake to compare this too.
Recipe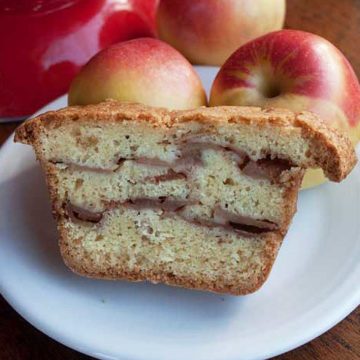 Apple Coffee Cake
A half batch version of Laura Goodenough's Apple Coffee Cake adapted from The New York Times cookbook. This version is made in a loaf pan.
Ingredients 
2

cups

of apples

sliced 1/8 inch thick (about 2-3)

1

cup

plus 2 1/2 tablespoons sugar

(200 grams plus 35 grams)

2 1/2

teaspoons

cinnamon

1 1/2

cups

all-purpose flour

(190 grams)

1 1/2

teaspoons

baking powder

1/2

teaspoon

salt

1/2

cup

vegetable oil

2

large

eggs

2

tablespoons

orange juice

1 1/2

teaspoons

vanilla extract
Instructions 
Preheat oven to 325. Grease and flour an 8 1/2 by 4 1/2 inch or 9 x 5 inch loaf pan.

Toss the sliced apples, 2 1/2 tablespoons of the sugar, and cinnamon together in a mixing bowl and set aside.

In another mixing bowl, combine flour, remaining 1 cup sugar, baking powder, and salt. Make a well in the center and pour in the oil, eggs, orange juice, and vanilla. Stir with a heavy duty scraper until blended.

Scrape 1/3 of cake batter into loaf pan. Layer about 1/2 the apples, drained of excess moisture (I blotted them with paper towels), on top. Add another third of the batter, followed by the rest of the apples, and remaining batter.

Bake about 60 to 75 minutes (check at 60 – time will vary with loaf pan size), until a toothpick inserted into the thickest part of the cake comes out clean or a meat thermometer registers 210F.

Allow cake to cool to lukewarm in the pan, then turn onto a serving plate.
Notes
Note: For the flour, I weighed out the equivalent amount of pastry flour, but the recipe calls for all-purpose, so use whatever you prefer.
Bake Time — I loaded all the batter into an 8×4 inch pan when an 8 1/2 by 4 1/2 or a 9×5 inch pan would have been a better choice. Because I put so much batter into a small pan, it took almost 80 minutes (at 325) to bake. If you're using the 8 1/2 by 4 1/2 or 9×5 inch loaf pan as recommended, it will probably take closer to 65 or 75 minutes. A good way to test whether or not cake is done is to stick a meat thermometer in it. Internal temperature of cake should be about 210 F. If you'd rather just make a full cake, double the recipe and use a 10 inch tube pan or Bundt pan.