The idea for Dipped Molasses Cookies came during a cruise to Alaska. Alaska Airlines served them on our flight to the port, and then I saw them again in Alaskan shops. When we came back from the trip I put together this recipe.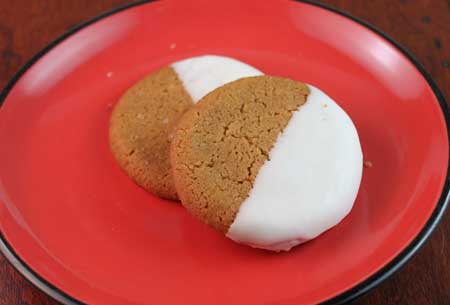 Shortening gives these cookies a dense and chewy texture and all the spices ensure loads of flavor. For the dip, I used some almond bark I found in the pantry – nothing fancy, but it tasted good and looked pretty.  I think I'm going to dip cookies more often.

Tip: If you have a scale, you can weigh the shortening. It's more accurate than trying to cram it into a measuring cup and less messy. Shortening weighs less than butter, though. I use the weight on the label which is 12 grams for every tablespoon or about 96 grams/3.4 oz per ½ cup.
Dipped Molasses Cookies
2 cups (9 oz) all-purpose flour, weigh or sift before measuring
1 teaspoon baking soda
1 teaspoon cinnamon
1 teaspoon ginger
1 teaspoon cloves
¾ teaspoon salt
¾ cup (5.1 oz/144 grams) shortening
1 cup granulated sugar
¼ cup molasses
1 large egg
"Bark" or other white melting chocolate, melted
Preheat oven to 350ºF. Line a baking sheet with parchment paper or non-stick foil.
In a medium bowl, mix the flour, baking soda, cinnamon, ginger, cloves and salt; set aside.
In the bowl of a stand mixer fitted with a paddle attachment or in a large mixing bowl using a hand-held electric mixer, beat the shortening and sugar until well mixed. Beat in the molasses. Add the egg and beat on low speed just until mixed. By hand or using lowest speed of the mixer, stir in the flour mixture.
At this point you can chill the dough or go ahead and begin shaping. I did not chill the dough. Divide the dough into 32 even pieces and shape into balls. Arrange the balls about 2 ½ inches apart on the baking sheets and press down slightly to make rounds. Bake for 8 to 10 minutes or until they appear set. Let cool on a wire rack. When completely cool, dip in melted coating.
Makes 32