In early August we took a cruise from Seattle to Alaska. It was our second cruise, and our first with Holland America. We chose that brand for the laid back atmosphere, ports and on-ship activities. There was a lot to do, but the thing I enjoyed most (aside from trivia) was the demonstration on how to make this Crème Brulee recipe from Holland America's culinary arts center.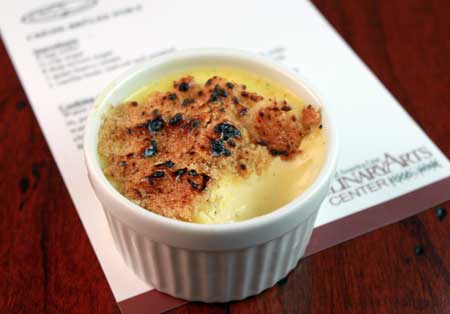 I never understood what all the fuss was about this dessert. I'd tasted it before -- usually a tiny portion of someone else's served after a big meal at a restaurant, but it never made any lasting impression. The one we tried on the ship did, and I made sure not to lose the little recipe card they gave out; which, btw, I think I will start collecting.
This particular recipe from Holland America's Chef Rudy Sodamin, was designed for eight, but I halved it and made 4 servings. I'm glad I didn't know anything about making Crème Brulee before starting, because I might have worried that the recipe didn't call for tempering eggs or straining. I didn't do any of those things and it was still silky, smooth and had a great vanilla flavor. The only thing that didn't work out was the bake time of 15 minutes at 300. I'm wondering if that was a typo, because mine took about 50 minutes.
To be fair, I'm going to have to try Alton Brown's recipe and compare the two, but this one was excellent.  Plus, I got to pull my torch out of the back of the pantry and use it!
Crème Brulee for 4
2 cups heavy cream
½ a vanilla bean, halved and scraped – I used Spice Islands
6 tablespoons granulated sugar
4 large egg yolks
4 tablespoons brown sugar ( you can use less)
In a large saucepan, combine the cream, the inside of the vanilla bean and the sugar; heat over medium until very hot (not boiling). Whisk in the egg yolks. Remove from heat and pour into 4 flame proof ramekins that you've arranged in a pan; in this case, a 9 inch square pan worked perfectly. Fill the pan with very hot water so that it comes about halfway up the sides of the ramekins.  Cover tightly with foil and bake on center rack at 300 degrees F for 15 minutes (mine took 45-55 minutes) or until it appears set, but still slightly shaky in the center. Remove from water and chill for 3 hours or until ready to serve. When ready to serve, sprinkle each with 1 tablespoon of brown sugar. Torch