Wow, I can't believe it took me so long to try Emily's creation, but I was in the mood to stuff something with Oreos and her Oreo Stuffed Chocolate Cookies from Halloween 2010 came to mind. And what's funny is it is almost a year to the day she made it.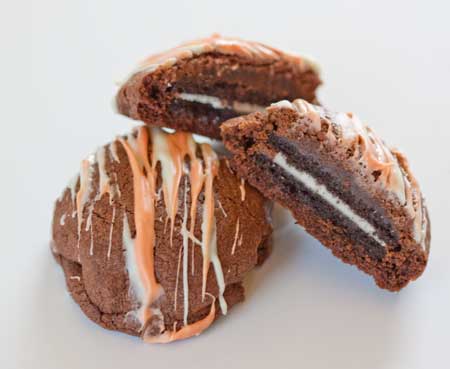 Thanks for such a fun recipe, Emily. Aside from looking cute, the cookies taste great.  The dough was super easy to work with and the cookies baked up with a nice, sturdy yet tender shell.  They were fun to decorate.  I used the white and orange chocolate as suggested (and shown in these photos), but I also did some with melted chocolate on top and Halloween sprinkles.  All the textures and flavors made for a really great cookie.
One final note: The only change I made was to use an ungreased baking sheet. In my experience, cookies spread less on an ungreased sheet.
More Baked Goods With Oreos
For a chocolate chip cookie infused with Oreo goodness, make Chocolate Chip cookies with Oreo Chunks but use the Halloween Oreos.
Oreos look great broken up in Bundt Cake.  I used a scratch cake, but I think they'd be good in just about any doctored box vanilla Bundt cake as well.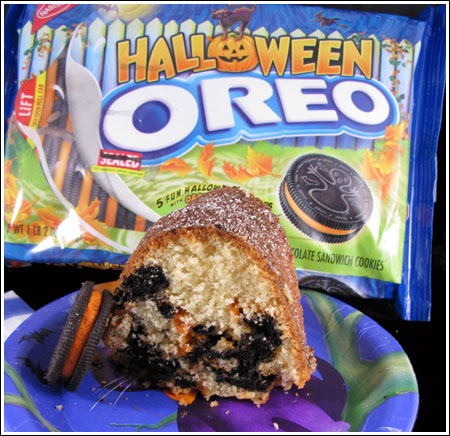 Or go the brownie route and put them there – an idea that's been around forever but never gets old.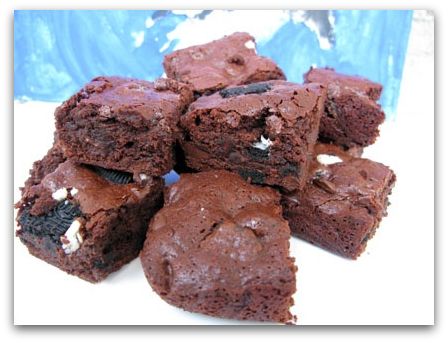 Or maybe you'd like cheesecake? I was really happy to find an Oreo makes a great base for Oreo Mini Cheesecakes.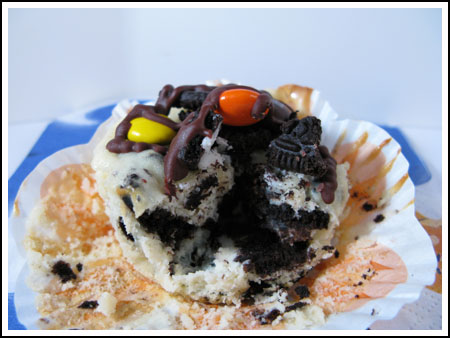 Last but not least, the muffin shaped Vegan Oreo Stuffed Chocolate Chip Cookies. There's a non-vegan version on the page as well.