This week I purchased a jar of Biscoff, a spread made with the popular Belgium spice cookies. If that sounds strange to you, you're in good company. But if you see it at your local Central Market or Wal*Mart (or the grocery store in your area that likes to give shelf space to new and interesting items), it's worth picking up a jar. I paid $6.00 for mine, but it was worth it because I'm finding lots of ways to use it. Yesterday's pumpkin squares were good, but these scones were even better. You can definitely taste the Biscoff in the scone itself, but what makes the scones really good is a hidden filling of straight Biscoff.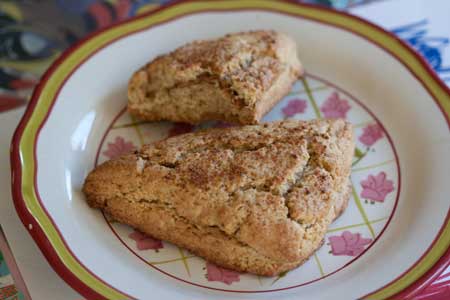 Recipe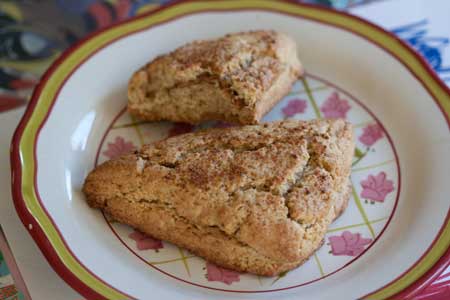 Biscoff Filled Scones
Scones made with Biscoff spread
Ingredients 
2

cups

all-purpose flour

9 oz

2

tablespoons

granulated sugar

3

tablespoons

packed brown sugar

1

teaspoon

baking powder

¼

scant teaspoon baking soda

½

teaspoon

salt

7

tablespoons

unsalted butter

very cold and cut into bits

⅓

cup

sour cream

mine was cold

1

large egg

mine was cold

¼

teaspoon

vanilla

¼

cup

Biscoff spread

3

tablespoons

addition Biscoff spread for filling

approx.
Instructions 
Preheat oven to 400 degrees F.

In the bowl of a food processor, combine flour, both sugars, baking powder, baking soda and salt. Add the cut up butter over flour mixture and pulse until mixture is crumbly.

In a small mixing bowl, whisk sour cream, egg and vanilla until smooth. Whisk in the ¼ cup of Biscoff.. Add sour cream mixture to flour mixture until large dough clumps form. Transfer mixture onto a lightly floured surface (my dough happened to be very cold and not too sticky, so I was able to get away without a floured surface) and shape into two rectangles, each about 3x6.

Cut each rectangle into 4 triangles so that you have 8 scone pieces. Working one triangle at a time, slice dough in half through the center to make two layers. Put about a teaspoonful of the extra Biscoff spread between the two layers of dough so that its hidden between the two triangles, then kind of pinch around the sides to seal it in. Repeat until you have 8 Biscoff filled scones. Sprinkle tops with sparkly sugar, turbinado sugar or whatever you have around (I used coconut palm sugar), then bake for 15-20 minutes or until the scones are browned around the edges and appear done.
Notes
If you have the Biscoff but are trying to get the most out of your jar and don't want to use too much in one recipe, this recipe halves very well. Just cut all the ingredients in half and use 2 tablespoons of beaten egg.