Today's Blueberry Honey Nut Bread was inspired by a picture I saw while flipping through a magazine at the place where I get my oil changed.   If you look at the photo on the link, you'll see the bread rises out of the pan, forms kind of a lump in the middle, and a ridge over the edge.  It almost looks like a big muffin baked in a pan, and I guess it tastes good because the bakery, St. Lucia Bread Company in Dallas, charges $32.99 a loaf. With shipping and handling that's $41.70.  Yikes! Suddenly, the $8.00 I spent on the artisan olive bread at the farmer's market seems like a bargain. That being said, I'm sure St. Lucia's bread is awesome, but I wanted to try making something similar at home.  Here's what I ended up with.
Long story short, I tried to clone the bread using the type of batter I  believed would give similar results — one that was so thick it could be piled in the pan.  While I can't say it's a clone seeing as how I haven't spent the $40 I'd need to spend to do so, I did end up with a really good blueberry bread.  Two, actually.
The first version called for a homemade mix that you make, then use as part of the recipe. Following this recipe, I got a nice high rising, crusty loaf on the first try.
But I wanted to make the bread with butter and bypass the step of making mix, so using the same ratios as the pre-made mix, used butter instead of shortening and the usual creaming technique used for cake.    The second batch was almost the same as the first.  It didn't rise up enough to form a rim over the pan, but I think that's just a pan size issue and if I'd use an even smaller loaf pan (or made more batter), I could have gotten a loaf that looked more like St. Lucia's.  Not that it really mattered in the end.  Todd took it to work and emailed to say his co-workers went at it like ravenous wolverines.  Excellent!
If you try the recipe, let me know.  I might make the next batch with blackberries and walnuts just for kicks, but the blueberries were really good.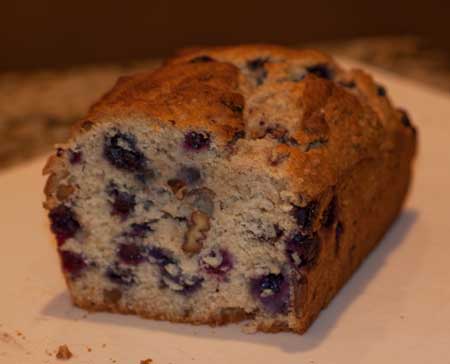 Recipe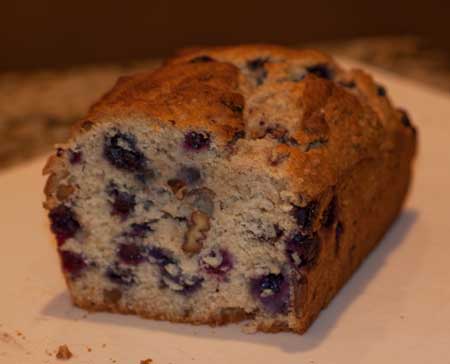 Blueberry Honey Nut Bread
Quick bread made with blueberries and ntus
Ingredients 
2 1/2

cups

11.25 oz all-purpose flour

1

teaspoon

cinnamon

4

teaspoons

baking powder

3/4

teaspoon

salt

8

tablespoons

unsalted butter

room temperature

5

tablespoons

granulated sugar

1 1/2

teaspoons

lemon zest

1/4

teaspoon

vanilla

1/3

cup

honey

1/3

cup

water

2

large eggs

room temperature

2/3

cup

toasted walnuts or pecans

1 3/4

cups

frozen blueberries

or fresh, depending on season
Instructions 
Preheat oven to 350 degrees F. Spray a 9x5 inch loaf pan (mine was slightly smaller) with flour-added cooking spray.

In a bowl, stir together the flour, cinnamon, baking powder and salt. Set aside.

In the bowl of a stand mixer or in a large mixing bowl using a hand-held mixer, beat the butter and sugar until creamy. Beat in the lemon zest and vanilla, then beat in the honey and the water. At this point the mixture should look kind of curdled and strange. Continue beating and scraping sides of the bowl, then beat in the eggs, one by one until mixed. By hand, gradually add the flour mixture stirring until it's mixed (If you're using a stand mixer with a paddle, you can do this with the paddle set on low, but I wouldn't advise doing it with low speed of a hand mixer because you might accidentally over-beat).

Stir in the nuts, and then the frozen berries. Pour mixture into the pan and bake on center rack for 70 minutes, shielding top with foil during the last 20 minutes to keep it from browning too much. Let the bread cool for several hours, then remove it from the pan and slice.