This cake was a result of my attempt to bake our favorite blueberry muffin recipe in a loaf pan.  I was going for blueberry bread, but the result was more like a Sara Lee pound cake with a lovely crust and big, fat, blueberries.  It was sweet, light textured and didn't require any sort of icing or streusel.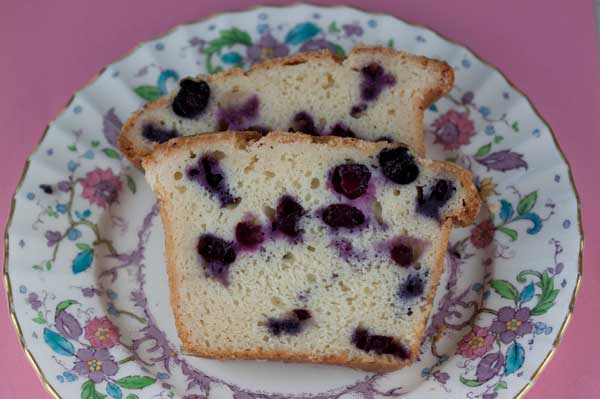 I made this cake twice three times. The photo below shows the first attempt, in which I baked it in an 8×4 inch loaf pan. Instead of rising up tall and stately, it rose and spread over the edges and made an awkward crust — an awkward and very tasty crust.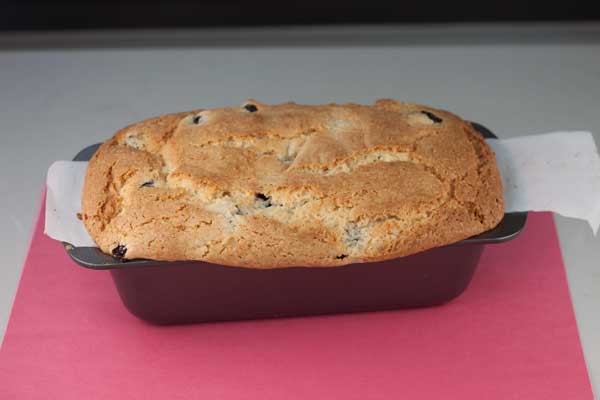 The second loaf, baked in a 9×5 inch pan, was shorter in stature but more rounded and elegant. Whatever pan size you choose, I think you'll like the flavor and texture of this one.
Update: Here's the third loaf. This was baked in an 8 1/2 by 4 1/2 inch size pan which I think is the perfect size.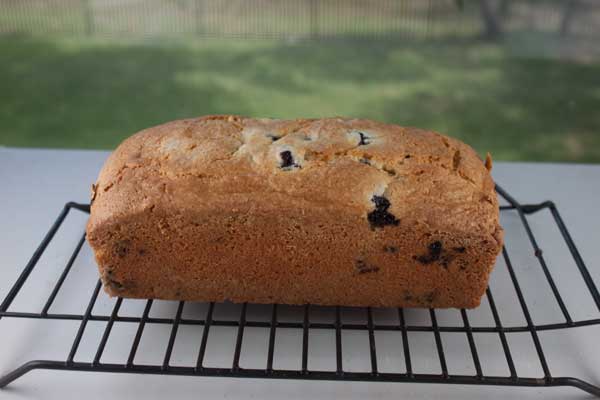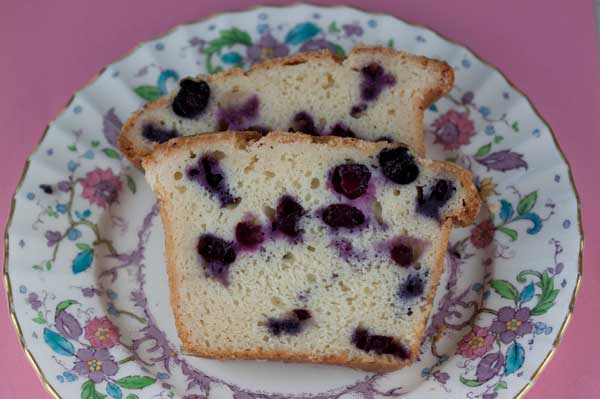 Blueberry Sour Cream Loaf Cake
Quick bread made with fresh blueberries and sour cream. Baking at a relatively low temperature helps form a good crust.
Ingredients 
1

stick

114 grams unsalted butter, softened

1 1/4

cups

granulated sugar

240 grams

2

large eggs

room temperature

1 1/2

teaspoons

vanilla extract

1 1/2

teaspoons

baking powder

1/2

teaspoon

salt

2

cups

all-purpose flour

270 grams

1/2

cup

sour cream

1

heaping cup fresh blueberries
Instructions 
Preheat oven at 325 degrees. Grease an 8 1/2 by 4 1/2 inch metal loaf pan and line with a strip of parchment paper (see note).

With an electric mixer, beat the butter and sugar until light and fluffy.

Add the eggs one by one, beating for 30 seconds after each egg.

Scrape sides of bowl and beat in vanilla, then beat in the baking powder and salt. Scrape sides of bowl again. Add half of the flour and stir with a heavy duty scraper (or large mixing spoon) until blended, then stir in the sour cream. Add remaining flour and stir until blended, then carefully fold in the blueberries.

Spread the batter in the loaf pan and bake on center rack for about 75 minutes (check at 60). If you are using a smaller loaf pan, put a cookie sheet on the lower rack in case any batter bakes and falls off the side.

My bread took almost 90 minutes in the smaller, more compact pan and 75 minutes in the wider 9×5 inch pan.

Bake until a toothpick or skewer inserted into the center of the loaf is clean. The top should be crusty and golden.

Set the pan on a wire rack and let cool for at least an hour. Carefully remove from pan. Let the bread cool for several hours so it will be easier to slice. It also freezes well. In fact, I thought the structure was better after the loaf had been cooled, frozen and thawed.
Notes
You can use any size loaf pan, but you'll need to keep an eye on the bake time. An 8×4 inch (1 pound capacity) loaf pan was too small and the bread rose up and out to the sides. When baked in a 9×5 inch loaf pan, the loaf had a nice structure and stable shape, but was stubbier. The 8 1/2 by 4 1/2 was the perfect size. Whatever size you use, check your bread at 60 minutes using a skewer or toothpick, then check every 15 minutes. My 9×5 loaf took 75 minutes and my 8×4 inch loaf took a little longer.