As a follow-up to the recipe for Pick Your Flavor Cheesecake Bars, here's a giveaway designed to liven up your holiday baking.   The nice people at Smucker's have offered gift packs of Orchard's Finest to three Cookie Madness readers.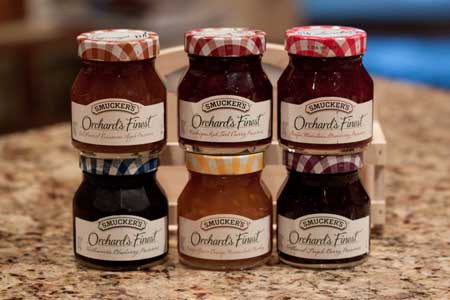 I'd never heard of Orchard's Finest until I visited Smucker's headquarters, but I really enjoyed our little tasting session which was done in the lab where they test things like viscosity, sweetness and chunkiness of preserves. While the machinery used for the testing was pretty high tech, the ingredients in Orchard's Finest were simple and the preserves tasted like something I might make at home if I knew how to make preserves. Out of all the flavors, my favorite was the orange marmalade, but I also liked the Triple Berry and the Cherry.
Now it's your turn for a taste test. For a chance at receiving a free sample pack of Orchard's Finest Preserves, post a comment telling me whether you prefer jam, jelly or preserves and what your favorite flavor is. The cut-off will be this Friday at noon and I will announce the winner on this very same post Saturday morning. As usual, this one's limited to USA residents.
UPDATED:  Giveaway winner are Jessie, Giovanna and….
Related posts: