Happy New Year! To celebrate, here's a recipe for Instant Pot Mayonnaise Cake. Nothing about that name sounds appetizing, but that aside this is a great little cake. And if you haven't baked a cake in your Instant Pot yet, this is a good recipe to start with because it's about as easy as they come.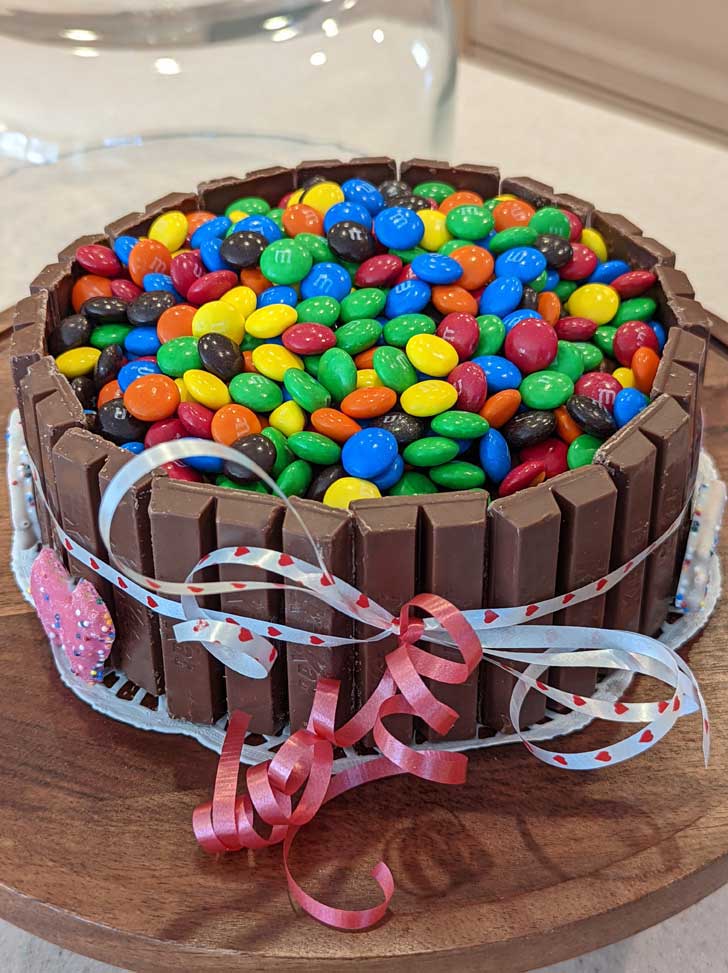 I've had my Instant Pot for a few years, but I'm only now really using it for desserts and realizing the benefits. Instant pot cakes free up the oven, they're never dry, and best of all -- they make smaller cakes. Six and seven inch cakes made in Instant Pot size pans are perfect for small to medium size families. My latest one is this Instant Pot mayonnaise cake with Circus Animals parading around a wall of Kit Kats! It was so much easier to make and decorate than a full size cake, and still more cake than we needed.
Instant Pot Cake Pan Sizes
The only thing you have to worry about is finding the perfect Instant Pot cake pans. I recommend buying a 7 inch leakproof springform and a Bundt. The key is to make sure whatever pan you buy has sides that are at least 3 inches high. Here are two that I found on Amazon -- the Nordic Ware 7 Inch Springform and this Bundt. I've seen them at stores like Marshall's and TJ Maxx, but I recommend buying ones with lots of reviews that you can trust to be leakproof. The ones I use were Aldi specials, so I was lucky.
Portillo's Copycat Cake Recipe
As for the cake, there are tons of cakes that work well in the Instant Pot, but the chocolate mayonnaise cake I recommend is an Instant Pot version of the super-easy Portillo's Copycat Cake recipe. It bakes up light yet rich – almost like a chiffon cake, but better.  Here's a texture shot.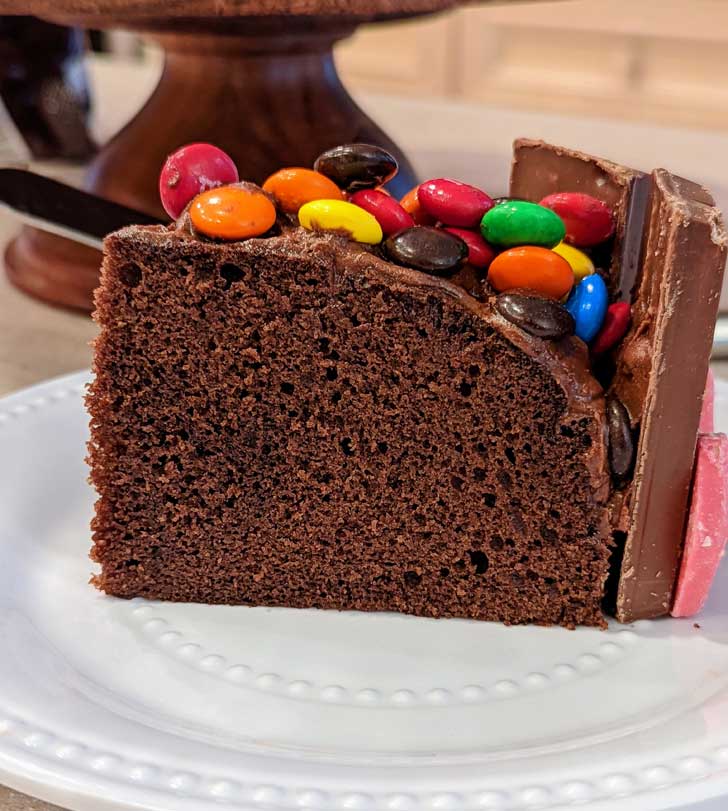 You have to use half a box of cake mix and half an egg, but that's really not such a big deal. Just transfer the cake mix to a zipper bag and save the rest for a second cake. Having a scale makes the process easier, but you can also measure by volume.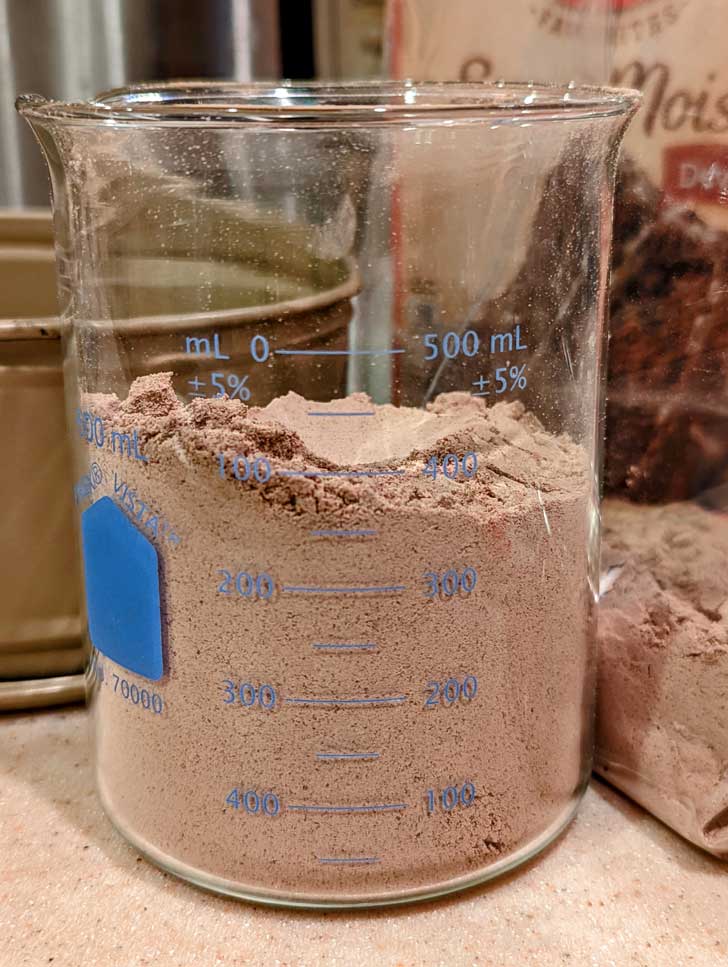 Instant Pot Mayonnaise Cake
Here's a quick rundown on how to make an Instant Pot mayonnaise cake with cake mix. Put your mixing bowl on a scale, set the tare to zero and add 216 grams cake mix, 110 grams mayonnaise, 70 grams of egg and 105 grams ice cold water. Beat the mixture very well and pour it into the pan. You then pressure cook the cake for 30 minutes, allow a 15 minute release time, and you're done. Remove from pot and let cool.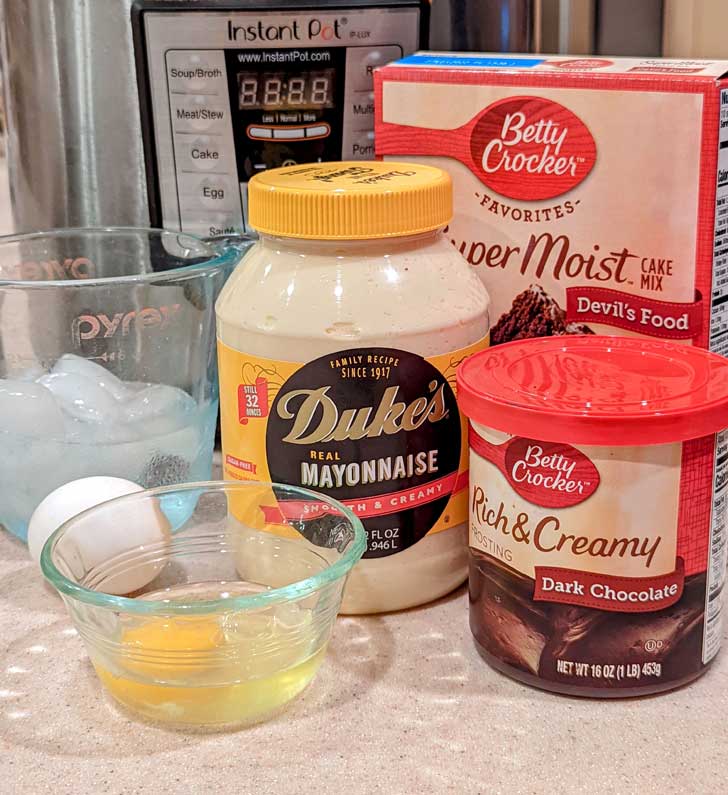 I've tested the recipe three times in the Instant Pot using the springform pan. I've also tested an even smaller version using a 28 oz tomato can which can double as a cake pan. The only problem with the tomato can is the cakes are a bit too tall and narrow. It's worth it to purchase the special Instant Pot cake pans.
And finally, if you just want to bake this in a regular pan, that's fine too! You can use the above measurements and bake in 1 9 inch layer, or just make the full recipe on the Portillo's copycat recipe page.
Recipe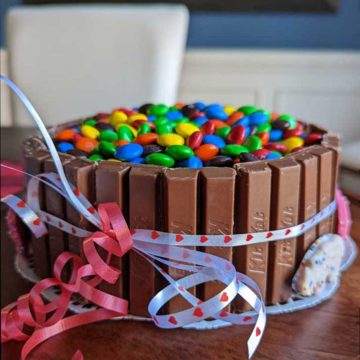 Easy Instant Pot Chocolate Mayonnaise Cake
7 Inch Springform Version – This version is pretty simple if you own a 7 inch springform. I measure everything with a scale, but I've listed approximate volume measures in case you don't have one.
Ingredients 
baking spray or something to grease pan

1 ⅔

cups

SCANT cup Betty Crocker Devil's Food Cake Mix

(216 grams)

½

cup

Duke's or Hellman's

(110 grams)

1

large

egg plus 2 tablespoons beaten egg

(70 grams)

½

cup

minus 2 teaspoons ice cold water

(105 grams)

Betty Crocker Dark Chocolate Icing or Homemade
Instructions 
Spray a 7 inch springform pan with flour-added baking spray. Alternatively, you can just grease it with butter or shortening.

In the bowl of a stand mixer or in a regular mixing bowl, combine 216 grams cake mix, 110 grams mayonnaise, 70 grams beaten egg and 105 grams water. Beat for about 3 minutes, scraping the sides of the bowl once or twice. Batter will lighten in color.

Scrape mixture into your cake pan. Cover the cake pan loosely with a sheet of foil. This is to prevent steam from falling and condensing on the cake. You don't have to make a tight seal, you are basically just creating a little umbrella.

Meanwhile, boil 1 ½ cups of water in the microwave. Put the water in the instant pot, then set the cake pan on the trivet and lower it into the Instant Pot.

Close the pot, put the sealing valve in the middle position and set the timer for 30 minutes. When time is up, allow for a 15 minute release. Release valve, remove lid from Instant Pot and carefully lift the cake. It should have risen quite a bit. The top might crack a little, but this is okay.

Allow the cake to cool in the pan for about 10 minutes, then slide a knife between the pan and the cake to loosen. Remove sides. Let cool for another 20 to 30 minutes. When ready to frost, you can cut horizontally to make thin layers or leave as one thick layer.

Wait for the cake to cool before icing.