Fuzz and I aren't dieting, but she loves savory snacks and wanted to try this recipe for Flax and Garlic Crackers from a low carb page on About.com. Update: Looks like it's now called Very Well Fit.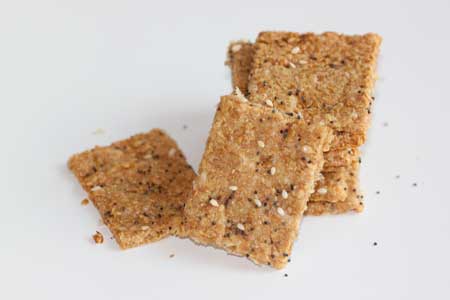 With 37 reviews and a bunch of stars, I figured we couldn't go wrong. And I guess we didn't. The crackers are okay -- not great by our standards due to a slight sharpness in flavor, but they're not bad. Plus, we were eating these alongside some Cheez-Its so they had some competition in the flavor department. If you try these, let me know what you think.
Flax and Garlic Crackers
½ cup flax meal (we used ground golden flax seeds)
3 tablespoons grated Parmesan cheese
¾ teaspoon garlic powder
¼ teaspoon salt
¼ cup water
Preheat the oven to 400 degrees F. Line a baking sheet with nonstick foil.
Mix the ingredients together in a bowl. With dampened fingers, press into a rectangle of about 6 by 8 or ⅛ inch thick. Do this directly on the pan. Push the crumbly mixture inward around the edges to smooth them the best you can. Sprinkle poppy seeds, sesame seeds, whole flax seeds or NOTHING over the top. With a pizza cutter, score into 2 inch pieces. Do not separate.
Bake on center rack for about 15 minutes, but keep an eye on them. At 15 minutes, we started to smell burning, but it was just near the edges and the rest of the crackers were fine. Transfer to a wire rack and let cool, then break into rectangles using the area you scored as a guide.