Stone Age Bread Crackers are my spinoff of Stone Age Bread, a Paleo-friendly bread made with nuts and seeds. Originally from Copenhagen, It was created by the chef at Kong Hans restaurant as part of their Paleo menu. It became so popular that stores began selling it and bakers began baking it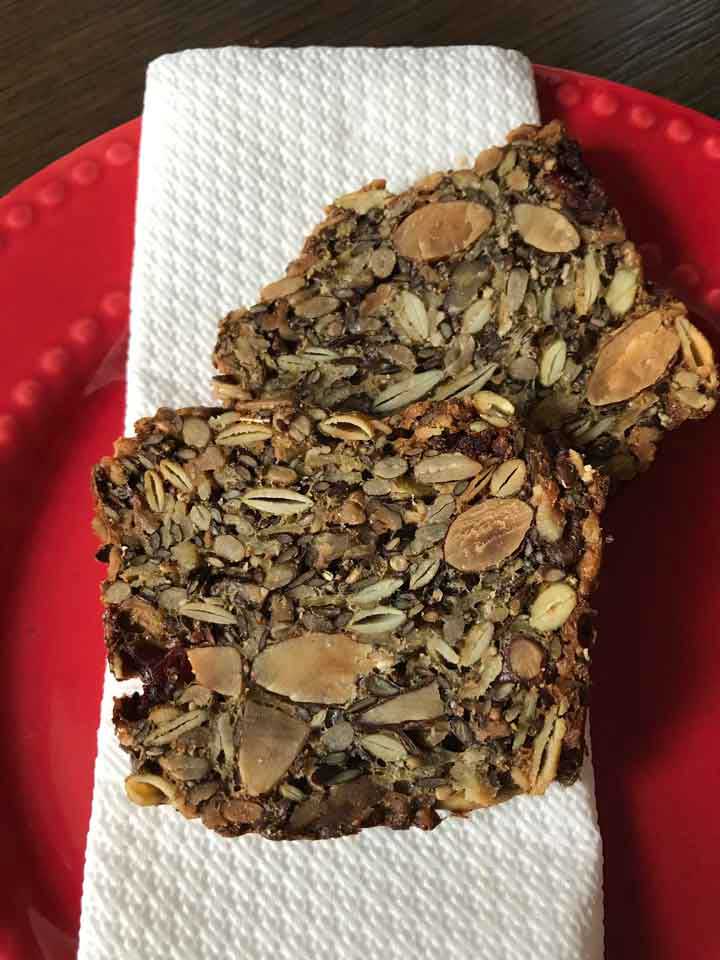 I somehow missed this recipe when it was popular 8 years ago, but I've made up for lost time by baking enough Stone Age Bread to last until the Apocalypse. And I've decided it's better as crackers. If you do not agree just leave it as a loaf, toast and enjoy. But the crackers are a little lighter, and it's nice having them in a tin for a quick snack.
Eggs vs Psyllium
Before I made the crackers, I tried a few different recipes for Stone Age Bread. Some are bound together with eggs while others use a combination of psyllium husks mixed with water. I've made two with psyllium (from My New Roots and David Lebovitz) and one version with eggs. All are good, but since eggs are a little easier to come by than psyllium, this recipe calls for eggs.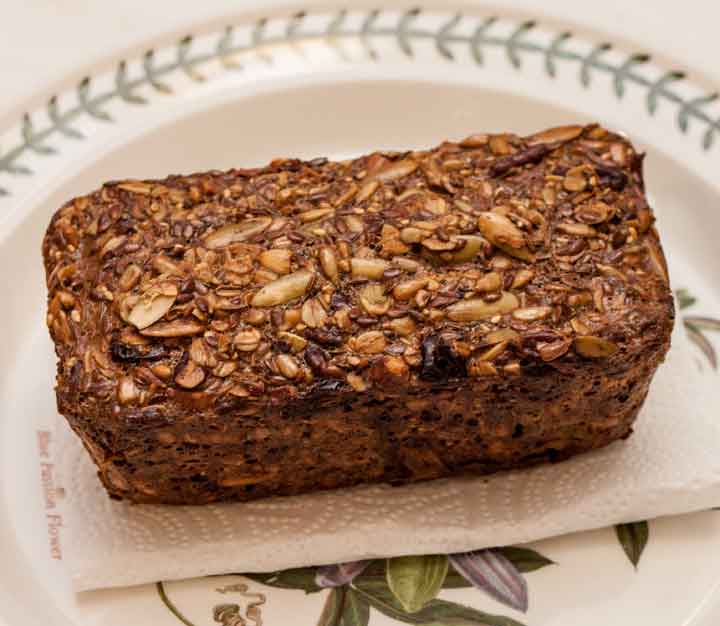 This recipe is baked in small (3x6 inch) loaves, so the crackers will be square shaped. Feel free to double the recipe and bake in an 8 ½ by 4 ½ inch pan. However, if you are new to this type of "bread" you may want to make the smaller loaf to see if you even like it. Some bakers find it bland, while others say "amazing". Mine is definitely not bland because I used all the tips out there plus a few of my own for preventing that.
Stone Age Bread Crackers Tips
Make sure the pumpkin seeds, sunflower seeds and nuts are toasted. You can buy pre-roasted seeds and nuts or do it yourself, but roasting or toasting really enhances the flavor of the bread. For the sesame seeds, I use a tablespoon of the pre-roasted kind that you usually find in the Japanese section with the sushi.
Don't leave out the salt! The bread needs it.
The tablespoon of maple syrup brings out the flavors and adds only a TINY bit of sweetness. The recipe is for a savory bread and these are still savory crackers. There are lots of sweet variations on the internet, but we actually prefer the savory version with a pop of sweetness from some dried cranberries.
Unless you can't stand them, don't leave out the caraway seeds. Caraway is a pretty strong flavor, but it's perfect in Stone Age Bread and Stone Age Bread Crackers.
I don't usually buy chia seeds, but I recently found very small bags of Badia brand in the Mexican section at Food Lion for less than $2. So if you don't want to buy a huge bag of chia, check the Mexican spice section.
Mix and match the seeds and nuts all you want, but for every seed or nut you remove, make sure to replace it with the same weight of another seed or nut.
Recipe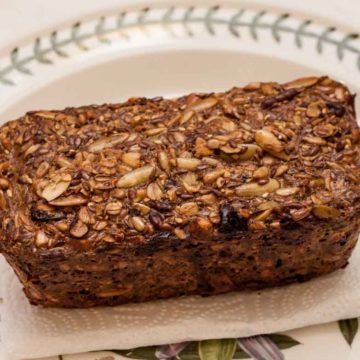 Stone Age Bread Crackers
Crispy crackers made entirely of nuts and seeds.
Ingredients 
¼

cup

whole roasted almonds

35 grams

¼

cup

roasted pecans, coarsely chopped

30 grams

¼

cup

pumpkin seeds. roasted

35 grams

¼

cup

roasted sunflower seeds

35 grams

1

tablespoon

toasted sesame seeds

6 grams

1

tablespoon

chia seeds

¼

cup

flax seeds. black or golden

45 grams

¼

cup

rolled oats or whole grain cereal

20 grams

2

tablespoons

dried cranberries. can use more or less

1

teaspoon

salt

11/2

tablespoons

coconut oil, melted

1

tablespoon

maple syrup

2

large

eggs
Instructions 
Preheat the oven to 350 F. Grease a 3x6 inch loaf pan and line with parchment. Grease parchment. If you don't have parchment you can use foil.

In a mixing bowl, combine all of the dry ingredients, from almonds to salt. Stir until evenly blended.

In a small cup, melt the coconut oil (I just use the microwave and start with 15 seconds). Stir in the maple syrup, then pour mixture over seeds, stirring to coat. Add the eggs and stir well. Let the mixture stand for about 10 minutes so that the seeds will absorb some of the liquid.

Pour into the prepared loaf pan and press down flat. Bake for 1 hour, or until set and golden. Let cool in pan for about an hour, then carefully remove from pan and let it finish cooling for at least another hour. Chill the loaf until it is very cold.

When loaf is cold and stiff, use a serrated knife to cut it into very thin slices. Lay slices on a baking sheet and bake at 250 degrees F. for about 30 minutes or until the edges crisp. Let the crackers cool and crisp completely.

Alternatively, you can skip the second bake and just cut into thicker slices, toast as you would bread and serve with a topping.