It had been a while since I made crackers with flaxseed, but a recipe for sun-dried tomato flax crackers sounded so tempting that I had to whip up a quick batch. Unfortunately, my first batch wasn't so successful because the crackers were too delicate and fell apart.  But they smelled so good and the misshapen scraps were so tasty (too tasty!) that I had to try again. This is the new version.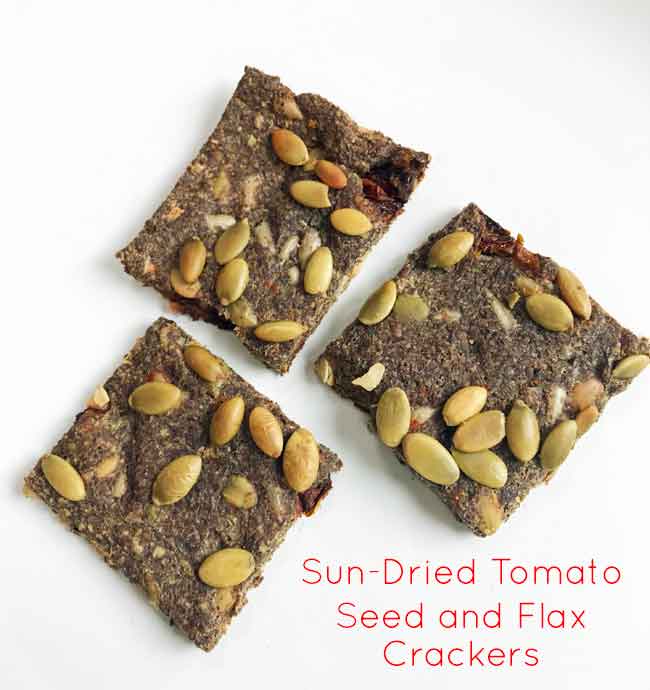 Small Batch Flax Crackers
This makes a small batch of flax crackers. If you are happy with the results, feel free to double the recipe, but I suggest you give the small batch a test run to make sure the recipe works well for you in your oven.  The "dough" is basically moistened flax and should look like this. I used flaxseed meal from the bulk bin at Sprouts, but you can certainly grind your own flaxseeds.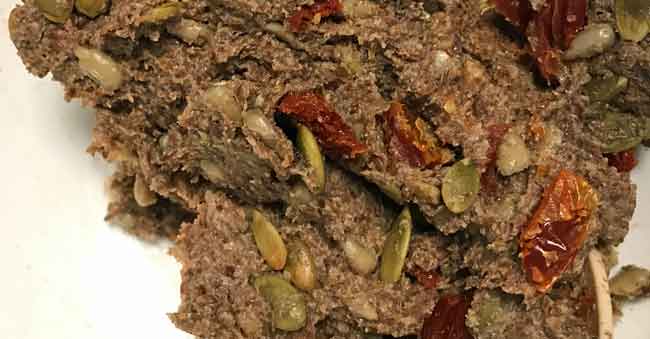 In this recipe, you score the crackers before baking so that you won't have to cut them while hard (and watch them shatter!). They are still delicate, though.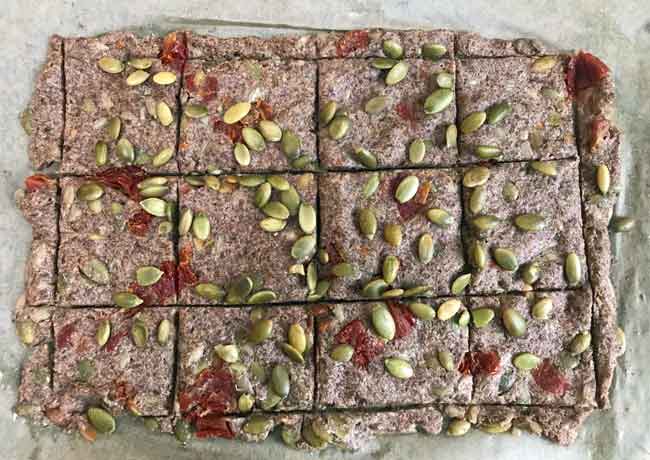 Be sure to rinse the oil from the tomatoes. Extra oil will make the crackers even more delicate. Also, the Julienne cut sun-dried tomatoes are easier to work with. I used Alessi.
If you try the recipe, please report back.  I've only made these twice, but plan to make them often.  They seem open to so much improvisation.
Low Fodmap Flax Crackers
To make these crackers amenable to a low fodmap diet, omit the onion powder and garlic powder. If you really want to keep the garlic flavor, you can omit the garlic powder and incorporate 1 teaspoon of fodmap friendly garlic oil.
Recipe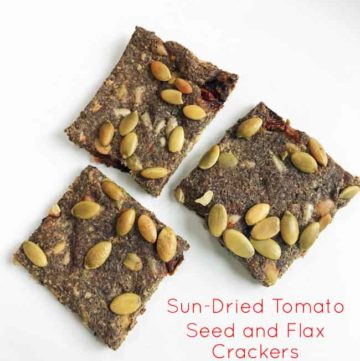 Sun-Dried Tomato Seed and Flax Crackers
Ingredients 
1

cup

flaxseed meal

½

teaspoon

dried oregano

¼

teaspoon

granulated garlic or garlic powder

¼

teaspoon

onion powder

¼

teaspoon

salt

⅓ to ½

cup

hot water

½

cup

raw pumpkin seeds

¼

cup

sunflower seeds

¼

cup

julienne sun dried tomatoes

rinsed, drained and chopped
Instructions 
Preheat oven to 400 degrees F. Line a rimmed baking sheet with parchment paper.

In a mixing bowl, combine the flaxseed meal, oregano, garlic, onion and salt. Stir until evenly mixed, then add just ⅓ cup of the water and stir to make a thick dough. It should not be dry, but it shouldn't "pourable" or too wet, either. If it seems too dry, go ahead and add remaining water. Stir in seeds and tomatoes.

Empty the mixture onto the parchment paper line tray and press down flat. Lay a second piece of parchment over the top and press down some more to make a thin slab about 10 inches by 6 inches.

Sprinkle a few extra tablespoons of pumpkin seeds over the top.

With a knife or pizza cutter, score into squares (do not separate them).

Lay second piece of parchment over the crackers and bake for 25 to 30 minutes.

Remove from oven and let cool completely. Carefully break apart the crackers. If they are crisp enough for you, you're done! If not, lay the crackers upside down on a baking sheet and bake at 300 for about 20 minutes. Let cool.
Notes
This recipe is was inspired by Jenelle Guy's recipe and one from a website called Clean Green Simple.  It's kind of a mishmash of the two, with a few extra steps.  It's open to variations, so put your own spin on it!