The giveaway has ended, but my favorite spaghetti sauce recipe remains!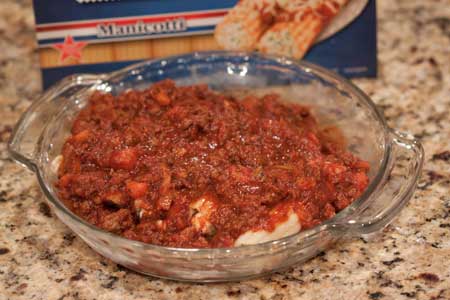 Anna's Favorite Spaghetti Sauce
¾ pound lean freshly ground beef
1 link Italian sausage (about 2-4 ounces) -- I use a small amount since it's rich
2 tablespoons olive oil
1 cup chopped onion
⅔ cup chopped baby carrots
⅔ cup roughly chopped celery
3 cloves garlic
2 small cans (16 ounces total) tomato sauce
5 ½ ounces tomato paste (1 can minus a tablespoon)
1 can (6 ounces) Spicy Hot V-8
½ teaspoon celery salt plus more as needed
2 teaspoons dried basil
2 teaspoons Greek Oregano
¾ teaspoon Spanish smoked paprika
½ cup water
⅓ cup red wine (or more as needed)
Salt to taste (optional)
In a large, dry skillet, brown the beef and sausage together. Alternatively, you can do this in the same Dutch oven which you use for the sauce, but have a bowl handy to move the meat to for the second step.
In a Dutch oven, heat the oil over medium. Add the onions, carrots and celery and sauté for 5 minutes. Stir in the garlic and sauté for another two minutes. Add (or return) the meat to the Dutch oven and stir it around with the vegetables. Now pour in the tomato sauce, tomato paste and V-8. Reduce heat to a simmer and stir in celery salt, basil, oregano, paprika, water and wine. Stir well. Cover and simmer for about 20 minutes or until ready to use.
If you don't want to try this recipe, check out the Skinner recipe collection. Or if you want to try another more time consuming recipe, here's an option.
This recipe is from Texas cookbook author Robb Walsh, or to be more exact, his Nana. I noticed she also uses V-8 in her sauce.  And here I thought it was my secret ingredient! 
Nana's Spaghetti and Meatballs
Spaghetti and Meatballs Ingredients:
1 (12-ounce) package Skinner Spaghetti
6 cups Nana's Red Sauce
18 Nana's Meatballs
1 cup grated Parmesan cheese
Crushed red pepper to taste (optional)
Directions:
Boil the spaghetti in briskly boiling salted water according to package directions. Drain and rinse well. Toss the spaghetti with the red sauce in a large mixing bowl combining thoroughly. Put the spaghetti in a serving bowl and top with the meatballs. Sprinkle with a little Parmesan cheese. Put the rest of the grated Parmesan cheese and the crushed pepper on the table and let diners add their own. Servings: 6
Note: If you make the lasagna and the spaghetti and meatball recipes using this spaghetti sauce recipe, you should have around four cups of red sauce left for another meal.
Meatball Ingredients:
1 ½ pound ground beef
½ cup bread crumbs
1 ½ cups finely chopped onion
2 cloves garlic, minced
¼ cup loosely packed chopped parsley
2 tablespoons dried ground oregano
2 eggs
Freshly ground black pepper
2 tablespoons parmesan
1 teaspoon salt or to taste
Nana's Red Sauce
Directions:
Combine all ingredients, except red sauce, in a large mixing bowl and mix well, blending all ingredients into a uniform texture. In your cupped hand, form 34 to 36 small (one ounce) meatballs. Drop meatballs gently into Nana's Red Sauce. Simmer, stirring gently every fifteen minutes to avoid breaking up the meatballs. Cook for 45 minutes to one hour or until meatballs are well done.
Nana's Red Sauce Ingredients:
1 tablespoon olive oil
1 pound ground sirloin
1 pound Italian sausage, casings removed
4 cups chopped onion
1 cup chopped celery
1 cup grated carrot
3 tablespoons minced garlic
1 cup white wine
2 (28-ounce) cans crushed tomatoes
1 (46-ounce) can tomato juice or V-8
2 (6-ounce) cans tomato paste
2 (15-ounce) cans tomato sauce
1 cup chopped parsley
½ cup coarsely chopped celery leaves
1 tablespoon dried oregano leaves
2 tablespoons dried basil leaves
1 teaspoon freshly ground black pepper
1 teaspoon crushed red pepper (optional)
Directions:
Heat the oil in a Dutch oven over medium high heat. Brown the beef and sausage in batches, transferring the browned meat to a bowl with a slotted spoon. When the meat is all browned, reduce the heat to medium and add the onion, celery and carrots. Use the vegetables to deglaze the pan scraping up the browned meat that stuck to the bottom. Cook for three minutes until the vegetables begin to soften. Add the garlic and stir to mix well. Cook another two minutes until the onions are translucent. Add the white wine and turn the heat to high stirring constantly for three or four minutes or until the white wine is reduced by half. Add the crushed tomatoes, tomato juice, tomato paste and tomato sauce, mix well and bring to a boil. Reduce the heat to a simmer and add the cooked meat and the remaining ingredients, stirring to combine. Simmer for two hours stirring every fifteen minutes.