This crustless quiche recipe was inspired by some individual quiches we saw at a coffee shop here in Raleigh.  They had a crust and seemed to have been baked in small springform pans. While I like a good pie crust, I'd rather have quiche without crust but with bread or a muffin on the side. So here's a recipe for cottage cheese based Jumbo Crustless Muffin Pan Quiches. The recipe is simple and can be adjusted to fit your tastes. The last batch had a Greek or Spanakopita feel to it, but I've made these with vegetables other than spinach and played with the seasonings. It's a pretty versatile recipe.
Jump to Recipe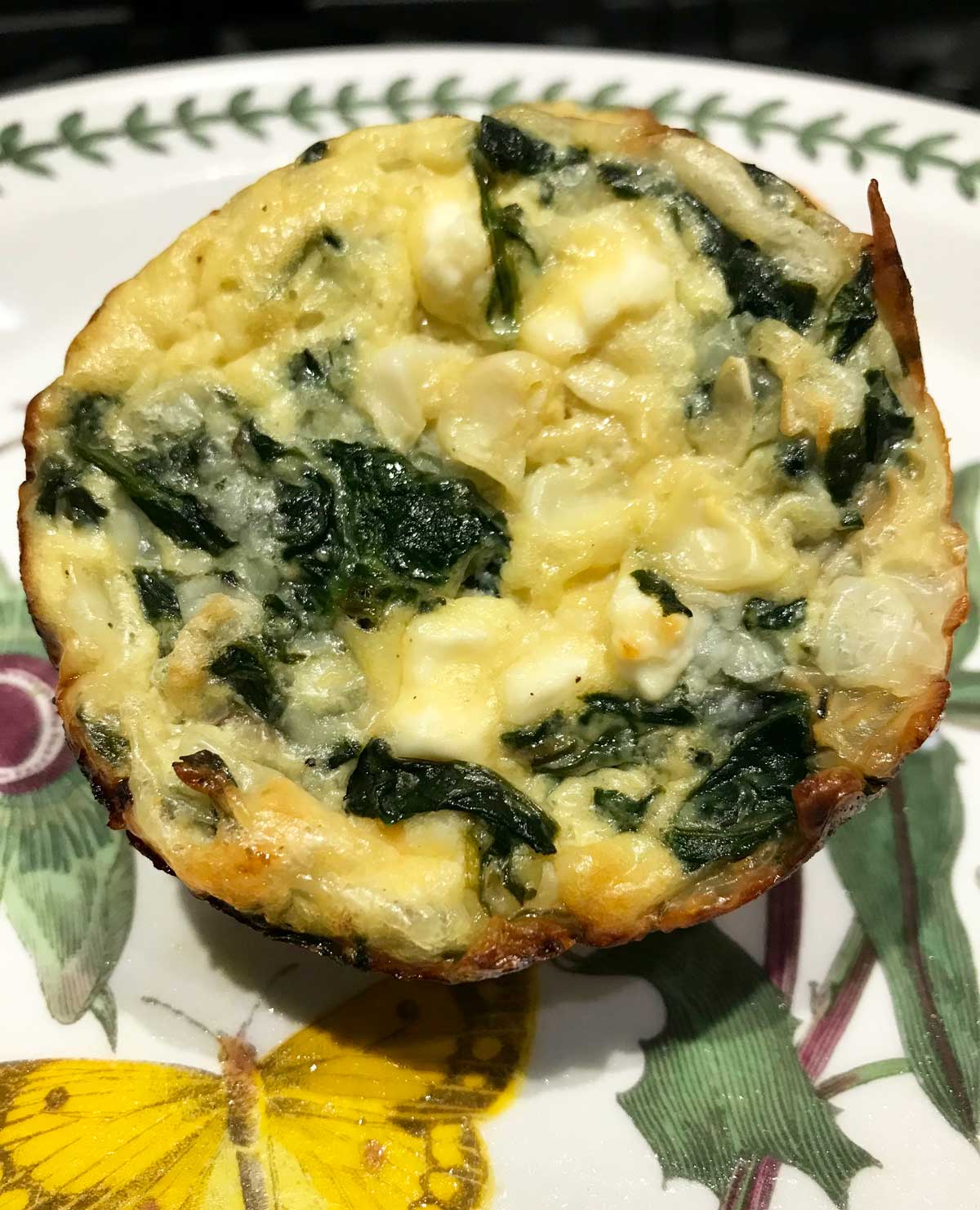 Jumbo Muffin Pan
Before you get started you'll need a jumbo muffin pan. This size muffin pan has wells that hold about a cup of liquid. My pan has six wells/cavities and happens to be a Wilton. Its nonstick properties are proving true so far, but I grease the bottoms with a little butter anyway or sometimes press lightly oiled squares of parchment in the bottom for extra insurance.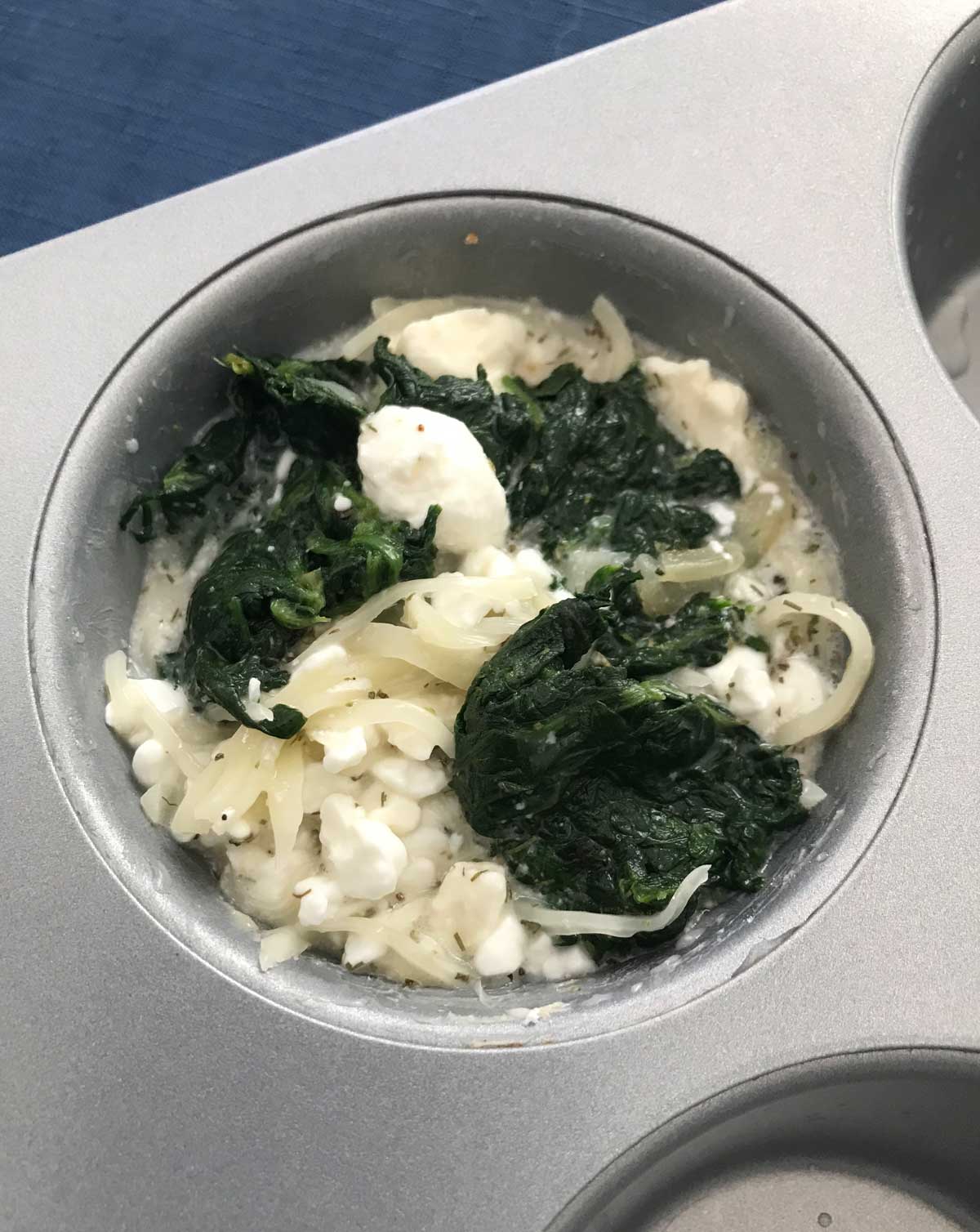 Cottage Cheese, Spinach & Feta Filling
This basic quiche recipe calls for a mixture of cottage cheese, feta, and mozzarella, plus spinach, onions and seasonings. Garlic is also in the ingredient list, but feel free to leave it out or substitute garlic oil for the 2 teaspoons of oil in the recipe. As for the onions, they add flavor for sure, but you can leave them out if you need to. If you use frozen chopped spinach, you can completely omit the extra oil and just use thawed, frozen, cooked chopped spinach. Or try broccoli! The only thing I haven't done to this is put a a couple of layers of phyllo under, which I think would be cool. Next time I have leftover phyllo I'll try it (along with my Chocolate Stuffed Phyllo Triangles).
High Protein
Jumbo Muffin Pan Cottage Cheese Quiches are high protein and not bad in terms of calories either. The fitness calculator says somewhere around 223 calories for just one quiche, and that's using full fat ingredients and whole eggs. This is only an estimate. I usually make a lighter version using just egg whites, 4% cottage cheese, feta and fat free shredded Kraft mozzarella cheese. Even fat free mozzarella and cheddar work pretty well in this crustless quiche recipe because there's so much flavor from the cottage cheese and feta. But I think I'm going to give that version its own post because I did some other things to it as well. Just know that you can easily swap lower fat ingredients.
Reheating Muffin Pan Cottage Cheese Quiche
To store, chill until firm. Wrap each quiche individually and tightly and put in a freezer bag. To serve from frozen, you have options. You can just put the frozen quiche on a baking sheet and heat at 350F until hot. If you are in a hurry, thaw in the microwave using one of the lower power settings, then air fry at 350F for about 8 to 10 minutes.
Recipe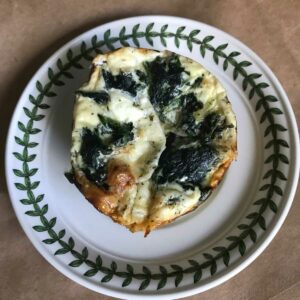 Jumbo Muffin Pan Cottage Cheese Quiches
Spinach and onion quiche with cottage cheese, feta and mozzarella baked in a jumbo muffin pan.
Ingredients 
1

teaspoon

olive oil or garlic oil (if not using the garlic)

½

cup

chopped onions

4

cups

baby spinach leaves or 10-12 oz already cooked, thawed and pressed dry spinach

chopped

2

cloves

garlic (optional)

minced

1

cup

cottage cheese, full fat or low fat

4

large

eggs or use a cup of egg whites or Egg Beaters

(200 grams egg)

Pinch

salt & pepper (Barely needed due to the salt in the cheese, especially the feta)

1

teaspoon

Worcestershire sauce

¼

teaspoon

salt free seasoning of your choice (for Greek, a mixture of Italian seasoning plus dill or whatever you like)

½

cup

crumbled feta cheese

(56 grams)

½

cup

shredded mozzarella, cheddar or Swiss**

(56 grams)
Instructions 
Heat the olive oil in a nonstick skillet. Add onions and cook for about 2 minutes or until they are soft, then add garlic and spinach and cook everything together until the spinach is wilted. Set aside. When cool, press a paper towel over to blot moisture.

Whisk together cottage cheese, eggs, seasonings, feta and mozzarella. Add the spinach mixture to the egg mixture.

Divide the mixture between three well greased jumbo ( 8 oz capacity) muffin cups. Set the muffin pan on a rimmed baking sheet.

Bake at 375 for about 30 minutes or until the quiches appear set. Let stand in pan for 10 minutes, then carefully go around edges with the tip of a knife to loosen. Remove from pan.
Notes
The type of hard cheese you use will change the flavor, so you can build the seasoning theme around the cheese. With cheddar, you might want to throw in some ham. With Swiss, add a little bacon. You can also add rice or a starch for a little more heft.
Nutrition
Serving:
1
quiche
Calories:
223
kcal
Carbohydrates:
19
g
Protein:
7
g