Cottage cheese seems to go in and out of style, but at our house it's always been a favorite. We use it on potatoes, in baked goods and high protein vegetable dishes like this Cottage Cheese Spinach Bake. It's so easy to make, rich in nutrients, and just filling enough not to weigh you down.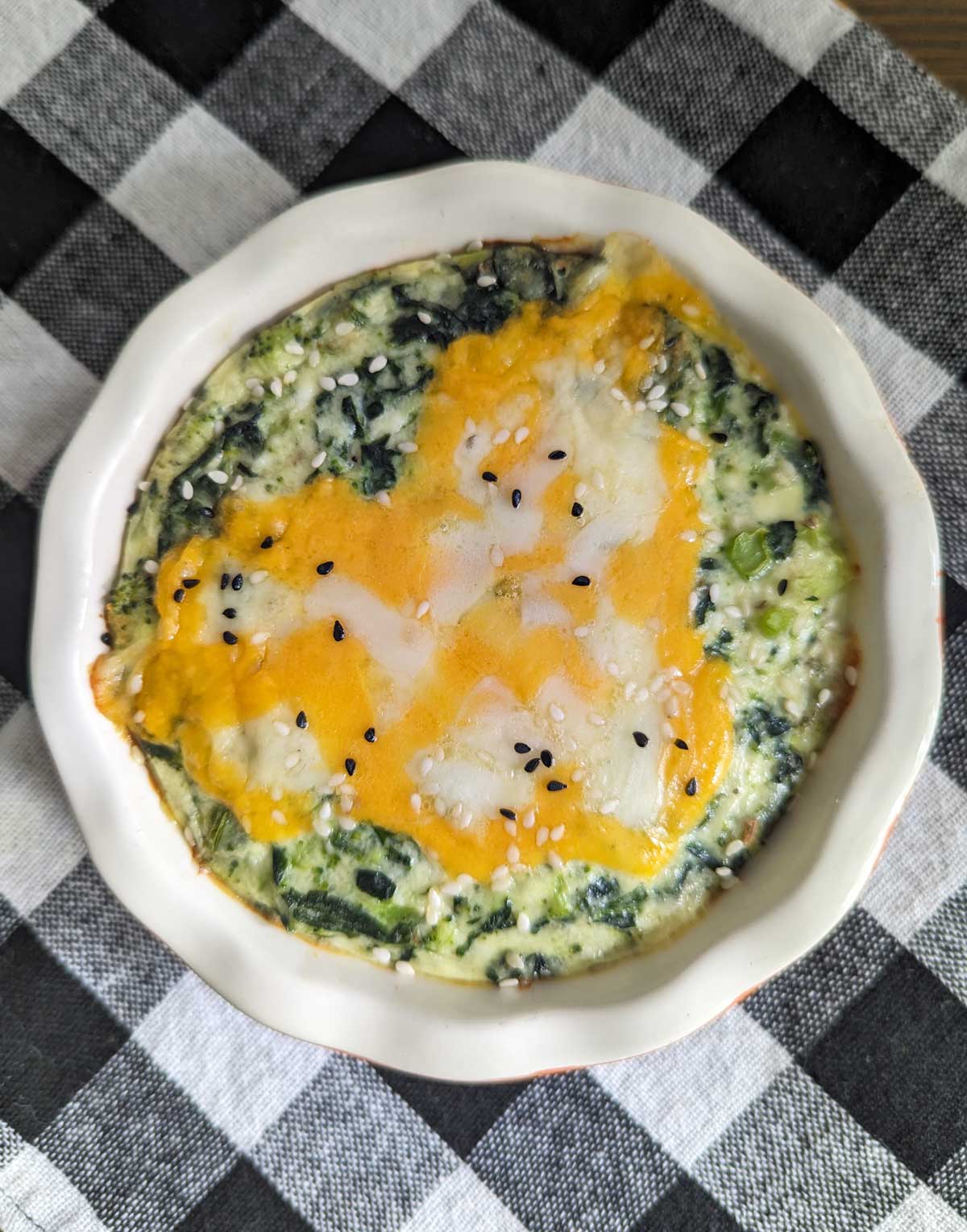 Individual Servings
I've made this on and off through the years, but this past week I made it multiple times for Fuzz and myself in mini pie plates. The Cottage Cheese Spinach Bake in the photo is actually half the recipe baked in one 5-in pie plate.  One main dish serving  consists of one egg, half cup of cottage cheese and as much spinach as you like. A sprinkling of cheddar or any hard cheese adds richness as does a little feta or goat cheese mixed in with the spinach. But the dish is also very good with just the basics. 
Cottage Cheese Spinach Bake Changes
Egg dishes like this are so versatile and open to improvisation. if you don't have enough spinach, throw in some cooked broccoli or just about any other cooked drained vegetable. The cottage cheese is crucial, but you can add in some feta or goat cheese as mentioned above. And of course you can use whatever cheese you like on top. Feel free to adjust the salt  or leave it out completely, especially if you add a salty cheese such as feta or parmesan
Recipe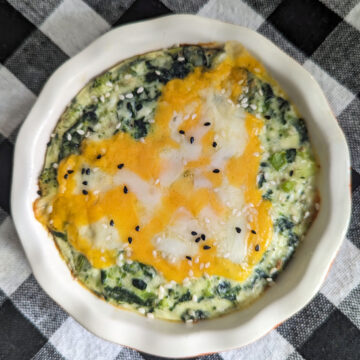 Cottage Cheese Spinach Bake
An easy way to use up cottage cheese. High in protein, too!
Ingredients 
8-12

ounces

fresh spinach or 1 thawed box of frozen spinach

**

2

large

eggs

1

cup

cottage cheese

¼

teaspoon

Italian seasonimg

⅛

teaspoon

garlic salt (or regular salt)--optional

¼

teaspoon

pepper

¼

cup

shredded Cheddar or Swiss cheese

1

pinch

sesame or Nigella seeds
Instructions 
Wilt the spinach. Put it all in a large pot, set over medium heat and cook until wilted. Press dry and chop. If using frozen chopped spinach, just thaw and drain.

Stir together eggs, cottage cheese, seasoning, salt and pepper, then stir in chopped spinach.

Divide among individual casserole dishes or put all in one greased 1 quart casserole dish.

Bake uncovered at 350 degrees F for 25-28 minutes. Sprinkle with cheese and seeds bake an additional 5 minutes.

Let cool for about 5 minutes before serving.