Of all the recipes in the Duke's Mayonnaise Cookbook, the Sun Dried Tomato, Feta & Spinach Quiche was the one I was most curious about. Well, maybe second to the Mayonnaise Chocolate Chip Cookies. This is a quiche with mayonnaise in the crust and in the filling, and I am so glad I tried the recipe!
Jump to Recipe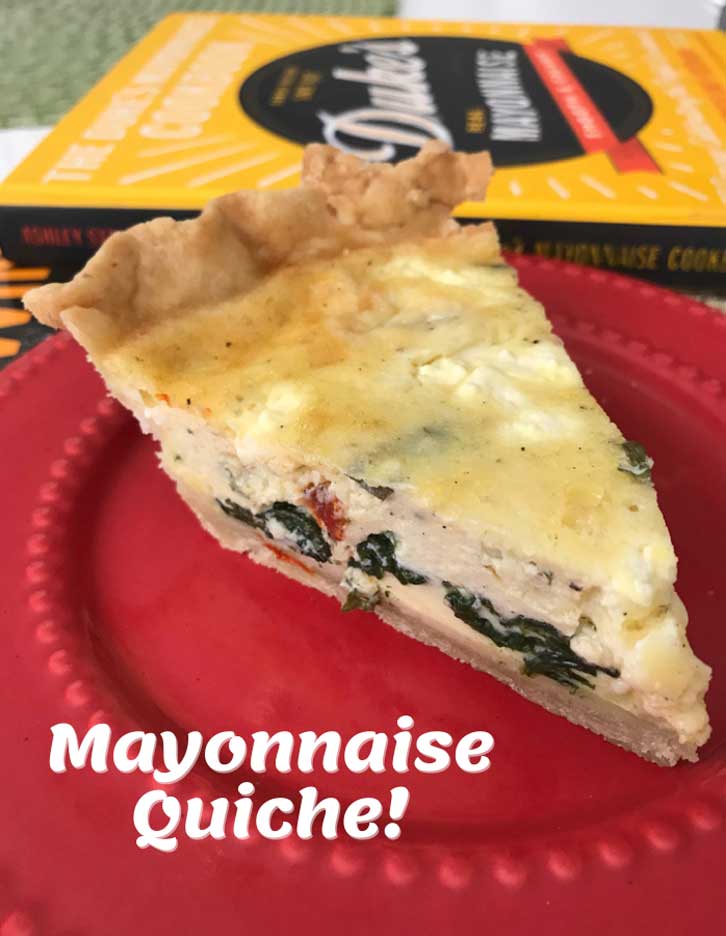 Mayonnaise Quiche Pie Crust
The mayonnaise pie crust calls for a half cup of mayonnaise which is used in place of oil or butter. I used the food processor as the book instructed, but I don't see why you could not mix the crust by hand. The dough was easy to roll once everything stuck together, which involved some folding. The texture was interesting. It reminded me of shortbread or a cracker, but it did flake so you could call it flaky. It's definitely not the same as a butter or shortening crust, but still very good.
Mayonnaise in the Filling
Mayonnaise Quiche has a really smooth filling. Like most quiches, if you cut into it right after it cools it is fine, but if you refrigerate the quiche overnight and cut it the next day, it's better. The texture smooths out a bit. In my opinion quiche is one of those foods that is almost always better on Day 2. This one is no exception.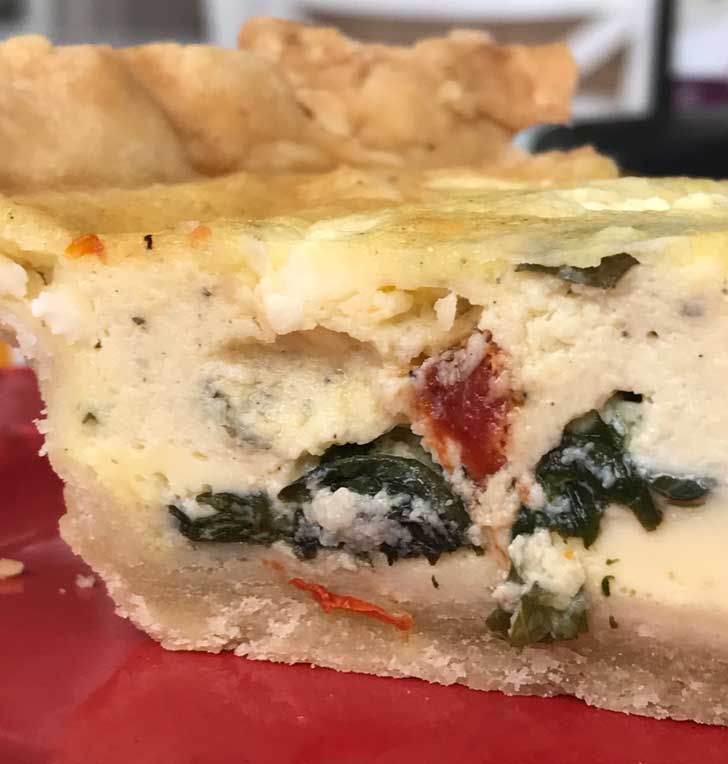 Mayonnaise Quiche Variations
I've used mayonnaise in a lot of different recipes, but I never thought I'd be making quiche with mayonnaise. I think the next flavor will be Ham & Cheese Quiche with Mayonnaise, or maybe I'll do a Broccoli and Cheddar version.
Some More Mayonnaise Recipes
Gluten-Free Frittata Version
I haven't tested this yet, but a note in this book says that you can make the quiche as a gluten-free frittata simple by pouring the filling in an oven-proof dish or skillet and baking until done. I think I'm going to test this using a ¼ batch and pouring it into my little 6.5 inch skillet. I'll post an update when I do.
Recipe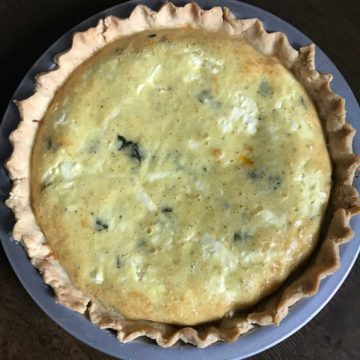 Mayonnaise Quiche or Sun Dried Tomato, Feta & Spinach Quiche
A delicious and easy quiche with mayonnaise in the crust and filling.
Ingredients 
Mayonnaise Pie Crust
2

cups

all-purpose flour

(260 grams)

½

teaspoon

salt

1

teaspoon

sugar (optional)

½

cup

mayonnaise

(120 grams)

¼

cup

cold water
Mayonnaise Quiche Filling
1

tablespoon

oil from a jar of sun dried tomatoes in oil

2

cloves

garlic

1

5 oz

package baby spinach

½

cup

julienned oil-packed sun dried tomatoes

4

large

eggs

½

cup

mayonnaise

(120 grams)

½

cup

whole milk

(120 grams/ml)

½

cup

grated Parmesan cheese

¼

teaspoon

salt, book calls for ½, but I think ¼ would be better

¼

cup

chopped fresh basil

½

teaspoon

ground pepper

4

oz

Feta or goat cheese (or use 2 oz feta and 2 oz mozzarella)

(114 grams)
Instructions 
Pastry Crust
Pulse the flour, salt and mayonnaise together in the bowl of a food processor just until crumbly. Add the cold water and pulse until dough comes together. If you need to add more water, add 1 teaspoon at a time. Shape into a disk and let rest for 30 minutes at room temperature or shape and chill until ready to use. If you chill it, let it stand at room temperature for about an hour before using.

Roll out the dough and fit it it into a 9 inch deep dish pie pan. Chill until firm, then cover with parchment paper and pie weights and bake at 400 for 12 minutes . This partially bakes the crust.
Filling
To make the filling, saute the spinach and garlic in 1 tablespoon of the oil from the tomatoes. Remove from heat when spinach is soft. Spread over bottom of the partially baked crust. Lay tomato strips over the spinach.

Whisk together eggs, mayonnaise, milk parmesan cheese, and salt. Pour over the tomatoes and spinach. Sprinkle with basil, pepper, and feta (or goat cheese).

Bake the quiche at 350 degrees F. for 40 minutes or until set. Let cool on a wire rack, then cut into wedges. Alternative, cool the quiche completely, then cover and chill until very cold. When ready to serve, reheat gently or cut and reheat individual pieces.