We celebrated Michelangelo's birthday yesterday by having tiramisu for dessert. But rather than the tiramisu I usually make, White Russian Tiramisu from Cooking Light, I tried a slightly richer version from Tiramisu from Gourmet.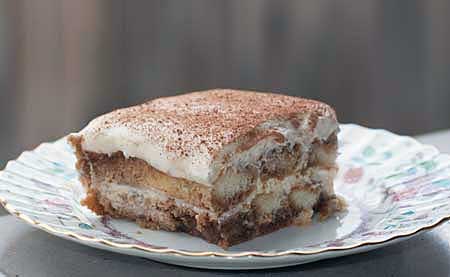 All in all, we liked it, though it did need a good 6 hour chill to firm up and develop. The original amount of coffee in the recipe (2 cups) and the 4 second dipping time were too much and too long for the brand of savoiardi biscuits I used (Alessi, in the green bag), but other than that the recipe was great and less heavy than some given the egg whites and fairly modest amount of cream. Since I made so many changes (used Kahlua, Safe Eggs, added vanilla, altered the coffee amount and needed 24 ladyfingers to make 2 layers), I retyped the recipe. The reviews on Epicurious are still helpful, so check them out if you're unsure about tiramisu.
The next recipe I'd like to try is the one that comes on the bag of ladyfingers. I'm not sure I'd care for the Marsala.
Recipe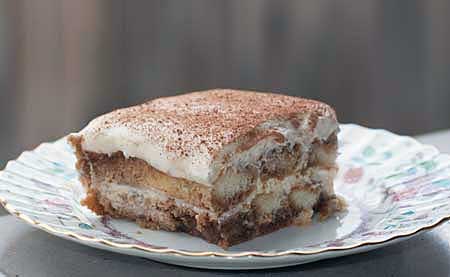 Tiramisu
An easy tiramisu recipe made with Kahlua
Ingredients 
3

large pasteurized eggs

separated and brought to room temperature

pinch

of salt

¾

cup

granulated sugar

divided

1

8-oz container Mascarpone cheese

½

teaspoon

vanilla extract

½

cup

chilled heavy cream

1 ½

cups

brewed decaf or regular coffee

2

tablespoons

Kahlua

24

crisp Italian style ladyfingers

Cocoa powder for dusting top
Instructions 
Have ready an 8 inch square glass dish.

In a mixing bowl, beat egg whites with a pinch of salt just until they hold soft peaks. Add ¼ cup sugar a little at a time, then continue to beat whites until they just hold stiff peaks.

In a second large bowl, beat together yolks and the remaining ½ cup sugar until thick and pale, about 2 minutes. Beat in Mascarpone until just combined. Beat in the vanilla.

In a third bowl, beat cream until it just holds soft peaks. Fold the whipped cream into the cheese mixture gently but thoroughly, then fold in whites.

Stir together coffee and Kahlua in a shallow bowl. Dip 1 ladyfinger in coffee mixture, soaking it about 1 second on each side, and transfer to the prepared dish. Repeat with enough ladyfingers (in my case it took 12 total) to cover the bottom of the dish. Spread half of Mascarpone mixture evenly over ladyfingers. Repeat, making a second layer of ladyfingers and Mascarpone mixture.

Chill for 6 hours or overnight. Dust with cocoa powder before serving.