Happy St. Patrick's Day!
If you're still looking for a green dessert, here's a suggestion. This recipe was posted by Karen (Thanks, Karen!) who dug it up for me when she saw that I was into poke cakes. Unlike pudding poke cakes, this Creme de Menthe cake uses Hershey's chocolate syrup. The green color (which this picture does not convey very well thanks to my lighting) is from the Creme de Menthe.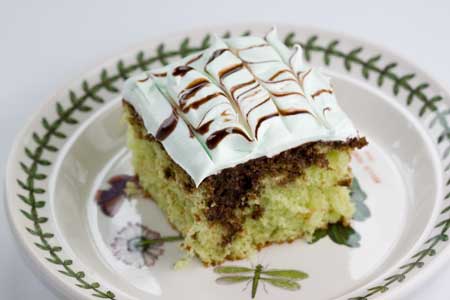 If you have cake mix, Cool Whip and mint liqueur on hand, this cake is super convenient. It also tastes pretty good, and I have to admit I'm not the biggest mint fan.
Note: Because I had yellow cake mix on hand, I used yellow cake mix and just followed the directions on the box using whole eggs, oil, and water. If you follow the directions and use a white cake, you'll surely have a more vivid green. On the other hand, if yellow cake mix is all you have, you'll still get a green hue and the flavor is very good.
Creme de Menthe Cake (from Karen)
1-white cake mix with the pudding already in it
1 cup water
3 egg whites
⅓ cup vegetable oil
3 Tablespoons Creme de Menthe (regular)
Chocolate Syrup (recipe calls for 1 can, though I didn't use that much)
Mix ingredients together, bake in a greased 9×13″ cake pan as directed.
While cake is still hot, use a meat fork or a skewer to poke holes all over the cake. Pour Hershey chocolate syrup over the cake, work in slowly. (I poured it on slowly and kind of rubbed it into the holes with the back of a spoon. After it settled, I poured on another layer and again, rubbed it in. In the end, my streaks still didn't go to the bottom, but I was okay with that because I didn't want too much syrup. I probably used about ½ cup total for half a cake).
Let cool (and chill).
Frosting
8 oz. tub of Cool Whip (Lite works!)
3 Tablespoons of Creme de Menthe