I never latched on to the new Pretzel M&Ms.....something about the pretzels displacing the chocolate bothered me, even though I very much like pretzels with chocolate. But now there's this.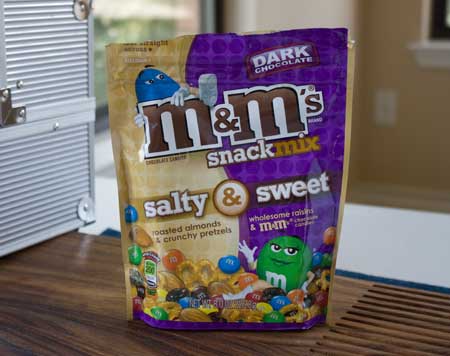 The M&Ms people (or maybe this is all Ms. Green's doing since she's featured so prominently on the bag)  have mixed their candy with almonds, pretzels and raisins…or in some cases, almonds, pretzels and tiny shortbread cookies, in sweet & salty snack mix.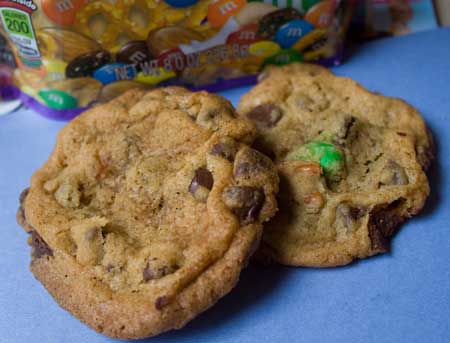 So long story short,  I bought a bag and convinced Fuzz to put a big handful  in her favorite cookie recipe.  The dough part of the recipe is from the Williams Sonoma Kids' Cookbook.  It's become one of our most-used chocolate chip recipes, despite the fact we were suspicious about the higher than usual amount of baking powder.  But it works. The cookies bake up with ridges and folds, have chewy centers, and very crispy edges.  As for the flavor, I used Rumform brand baking powder, which has less of a metallic, bitter flavor than some others, so you don't taste it quite as much.
Recipe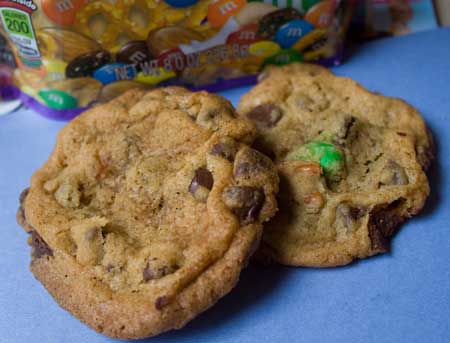 Fuzz's Candy Mix Up Cookies
Cookie recipe using M&Ms new mix of pretzels, almonds and candy.
Ingredients 
1

cup

4.5 ounces all-purpose flour

1 ½

teaspoon

non-aluminum type baking powder

¼

teaspoon

salt

4

tablespoons

unsalted butter

softened

4

tablespoons

shortening

½

cup

dark brown or light brown sugar

½

cup

granulated sugar

1

large egg

¾

teaspoon

vanilla extract

1

cup

dark chocolate chips

½

cup

or more! M&Ms mix-ups
Instructions 
Preheat oven to 350 degrees F. Line a cookie sheet with nonstick foil.

Mix the flour, baking powder and salt together in a bowl.

In a mixing bowl, using a handheld electric mixer, beat the butter, shortening and sugar until creamy. Beat in the egg and vanilla until mixed. By hand or using lowest speed of an electric mixer, stir in the flour mixture.

Stir in the chocolate chips and the M&Ms.

Drop the dough by heaping teaspoons or level tablespoons and bake for 9-12 minutes (go by appearance) or until the cookies appear set. Let cool on sheets for about 3 minutes, then transfer to a wire rack to cool completely.
Notes
The pretzels in the M&M mix are small, but we still broke them up a little bit before using. Also, when we opened the bag we noticed the mix was in layers, with the pretzels on top. You might want to mix it up a bit before measuring out your big handful or ½ cup.