Last week a Cookie Madness reader mentioned a whoopie pie she ate at Disney World's MGM Studios — specifically, a carrot cake whoopie pie. Until then, I'd never heard of a carrot cake flavored whoopie pie and for the past few days, haven't been able to get the idea out of my mind. Without an actual carrot cake whoopie recipe or the time to figure one out, I just made half a batch of these pumpkin ones. They're great — high and light with a cream cheese filling which is slightly richer and heavier than more traditional whoopie pie fillings. If you don't want to use cream cheese or need a filling that's more portable and less messy, you might try making the cookie part of this recipe and using the Amish filling recipe here. In the meantime, I'm going to plan a trip to Disney World so I can get a carrot whoopie pie.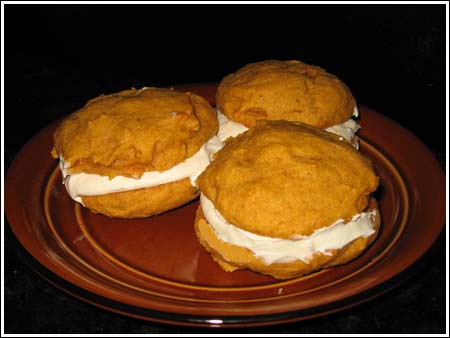 It just occurred to me, as I was wrapping these in Halloween cling wrap and trying to figure out what to do with them, that the cookie part of this recipe would be great for Fall flavored ice cream sandwiches. You could sandwich in dulce de leche ice cream, butter pecan, vanilla bean…..yum.
Pumpkin Whoopie Pies
1 (15-ounce) can pumpkin puree
2 large eggs
3/4 cup vegetable oil
2 cups granulated sugar
2 teaspoons vanilla extract
2 teaspoons cinnamon
1/2 teaspoon nutmeg
4 cups all-purpose flour
4 teaspoons baking powder
2 teaspoons baking soda
1 teaspoon salt
Filling
4 ounces (1 stick) unsalted butter, cool
4 ounces cream cheese, room temperature1/4 teaspoon salt
3/4 cup (3 1/2 ounces) Marshmallow Creme
1 teaspoon vanilla extract
1 1/4 cups powdered sugar
Preheat oven to 375 degrees. Line 2 large baking sheets with parchment paper.
In a large mixing bowl, stir together pumpkin, eggs, oil, sugar, vanilla, cinnamon, and nutmeg.
In a second bowl, stir together flour, baking powder, baking soda, and salt. Add dry ingredients to pumpkin mixture and stir just until mixed.Using a generously rounded tablespoon, drop 9 rounds about 2 inches apart onto each cookie sheet. Bake for 12-14 minutes, rotating baking sheets from front to back and top to bottom halfway through baking. Let cool for a minute on cookie sheets, then transfer to a rack. Repeat with remaining dough to make 36 cookies.
When cookies are cool, prepare filling. Filling: With electric mixer, beat butter and cream cheese until smooth. Scrape down sides of bowl and beat in salt. Add marshmallow crème and continue beating until incorporated. Scrape down side of bowl and vanilla, then gradually add powdered sugar, beating until smooth.Spread 2 tablespoons filling on center of flat side of one cookie. Place flat side of second cookie on filling and press cookies together to bring filling to edges. Repeat with remaining cookies and filling.
Makes 18 sandwich cookies