I don't post a lot of savory dishes, but this week I tried one that was just too good not to share. The recipe is called Hungarian Noodle Casserole and it's from the Junior League of Palo Alto's Private Collection. At first glance, it looks like your typical Noodles Romanov/Hungarian Noodle type dish, but I think the Junior League of Palo Alto got the spices just right. The flavors and textures were perfectly balanced and made a great side dish to lean roast beef. I suppose it might also work as an entrée with a little parmesan cheese and side of vegetables, but I liked it as a side.
Sorry about the weird lighting in the photo. I was in a hurry trying to get dinner on the table hot.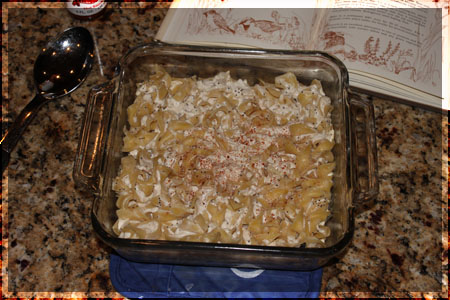 The Junior League version is double this and made to serve a crowd, so if you're feeding a lot of people you can make the dish in two 9×13 inch pans. I actually made of what's below and used an 8 inch square dish.
Hungarian Noodle Casserole
8 ounces of broad egg noodles (or fine) plus salt for water
1/2 chop chopped onions
2 cloves finely chopped garlic
2 cups low fat or full fat cottage cheese
2 cups sour cream
2 tablespoons Worcestershire sauce
1/2 teaspoon salt
1/4 teaspoon ground pepper
2 dashes of hot pepper sauce (e.g. Tabasco)
1 ½ tablespoons poppy seeds
Paprika for dusting top
Shredded parmesan cheese (optional)
Cook noodles al-dente in salted water using directions on bag. Drain.
Preheat oven to 350 degrees F. Rub a 13×9 inch glass casserole dish with butter or spray with cooking spray. If halving the recipe, use an 8 inch square dish.
In a big bowl, stir together the onions, garlic, cottage cheese, sour cream Worcestershire sauce, salt & pepper and hot pepper sauce.
Stir the noodles in and toss to evenly coat. Stir in the poppy seeds.
Pour the mixture into the casserole. Cover with foil and bake at 350 for about 30 minutes or until ready to serve. Before serving, sprinkle top with paprika. If you like, sprinkle on some good Parmesan (I skipped this).
Makes 6 to 8 servings