These past few weeks Todd and I have been trying to relive our vacation in New York by wandering around town checking out different coffee bars and interesting shops. Not that we couldn't do this with Fuzz, but since she's away at camp, we've needed to occupy ourselves. It's too quiet around here! So given that, our newly adventurous spirits led us out of the confines of suburbia to a more urban environment -- one with a Penzey's spice store. And just to fully live life on the edge, we decided to go on a spice shopping spree. Don't try this at home, kids, but I bought all of these things at once: a sinus busting pepper blend, a seasoning called Tuscan Sunset, Greek seasoning, and Dutch Process Cocoa Powder. Naturally, the latter is what I used in these brownies, which are a new improved version of S'mores Brownies.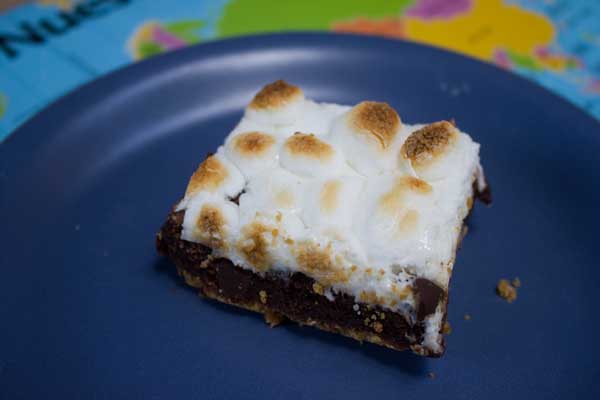 Anything "S'mores" flavor is fine by me, especially brownies. I've tried lots of variations (some more gooey than others) and this one is probably the best so far. Or maybe tied with the S'mores bars, which are also good, but more of a bar than a brownie. For the new brownies, I made a regular graham cracker crust, poured brownie batter over it, baked it, then scattered marshmallows on at the end. To get them to brown, I used the broiler, but next time I might just melt them in the oven a little and brown the marshmallows with a torch. Overall, these were pretty easy.
Unfortunately, now Todd has headed north to pick up Fuzz leaving me here with all these brownies. Luckily, they freeze well.
Recipe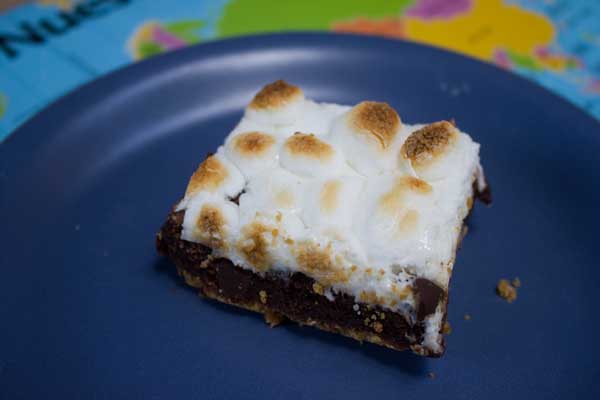 S'mores Brownies
S'mores brownies with a graham cracker crust and marshmallow topping
Ingredients 
Graham Cracker Crust:
4

tablespoons

butter

¾

cup

graham cracker crumbs

1

tablespoon

sugar
Brownies:
8

tablespoons

unsalted butter

1

cup

granulated sugar

⅓

cup

Dutch process unsweetened cocoa powder

Penzey's

¼

teaspoon

salt

¾

teaspoon

vanilla extract

2

cold large eggs

½

cup

2.3 ounces all-purpose flour

¼

teaspoon

baking powder

½

cup

extra dark chocolate chips
Instructions 
Preheat oven to 350°F. Line an 8 inch square metal pan with nonstick foil.

Melt the 4 tablespoons of butter in a 3 quart saucepan. Stir in the sugar and graham cracker crumbs and mix well. Press into the bottom of the pan and bake at 350 F for 5 minutes. Let cool slightly while you make the brownie batter.

Wipe out the 3 quart saucepan and make the brownie base. Melt the remaining 8 tablespoons butter in the saucepan. Stir in the sugar and the cocoa powder. Reduce heat to low and stir gently for about 30 seconds to warm the sugar. Turn off the heat and let the sugar mixture sit for 5 minutes. Stir in the salt and vanilla. Add the cold eggs, whisking or stirring just until mixed, then mix the flour and baking powder together in a little cup and stir them into the batter. Let the batter cool slightly, then stir in the chocolate chips.

Spread the batter in the pan and bake for 23 minutes. Remove brownies from the oven, sprinkle marshmallows over the top, then put under the broiler (about 4 inches) for about a minute or until the marshmallows brown. Alternately, you can skip the broiler and just put them back in the oven for a few minutes until the marshmallows puff up and then if you have one, brown them with a torch. Let the brownies cool completely before cutting, and for neater slicing, chill before doing. Bring back to room temperature before serving.